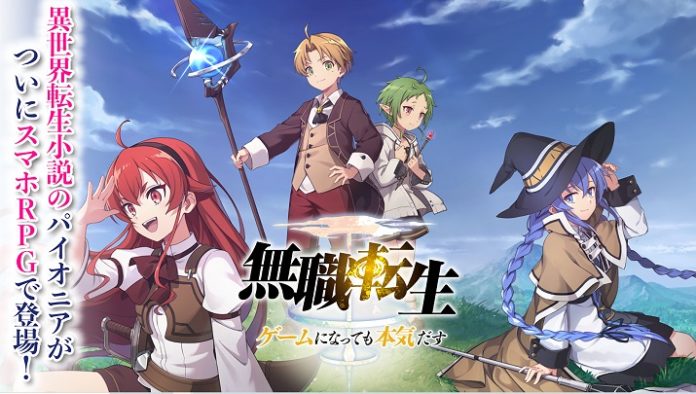 Japanese game publisher Beaglee has recently announced that a mobile game based on the popular Mushoku Tensei: Jobless Reincarnation anime is launching this month for the Android and iOS platforms.
If you're not familiar with the source material, Mushoku Tensei tells the story of a jobless thirty-four-year-old shut-in (NEET) who found the resolve to do something good in his life before his untimely death. He is then reincarnated as Rudeus Greyrat in another world full of magic and fantasy beings. Starting his life again as an infant baby boy with all of his memories intact, Rudeus is determined to live his new life to the fullest, setting out to learn magic and befriend many people including Roxy, Sylphiette, and Eris.
Officially named Mushoku Tensei: Game ni Nattemo Honki Dasu, the game will follow the story of the current anime season with the original author of the novel, Rifujin na Magonote onboard the project and will be penning the story for the game. The gameplay will be turn-based JRPG style where you can form a team of your favorite characters from the series, and use their different talents to perform devastating attacks and combos.
The whole game also seems to revolve not just around the main story, but also the cultivation of each character where you'll need to strengthen your bonds with them to make them even stronger outside the usual methods. Aside from that, there's the usual mobile game content like bounty quests, urgent missions, the main storyline, and so on.
Mushoku Tensei: Game ni Nattemo Honki Dasu is scheduled to be released in Japan on March 27, 2021. iOS users can pre-register now while Android users will have to wait a little bit more before they open sign-ups for you. For more information about the game and its features, visit their official website.