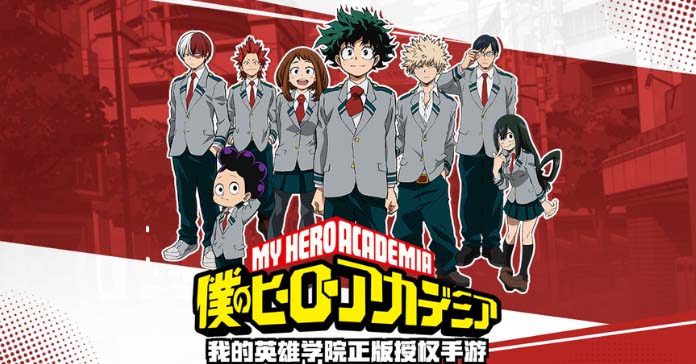 Anime seems to be a goldmine of new mobile game titles nowadays, and we just got news that a new one is imminent! This time, one of the successors of the Shonen Big 3, Boku No Hero Academia, is getting its own mobile game called My Hero Academia Mobile!

The game is officially licensed and developed by Tianma, which also made MU Origin and MU Origin 2. My Hero Academia faithfully follows the Manga/Anime's plot and its colorful cast of characters. The game throws you right smack in the middle of the Hero and Villain conflict. The battle system is turn-based similar to Seven Knights, with the addition of elemental strengths and weaknesses. You can form a team of your favorite heroes and villains, master their unique Quirks and create your own skill combos. Every special skill also triggers a special cutscene taken right from the anime! Additionally, there's a bunch of welfare activities to help your team grow faster.

A special mode of the game is the "Patrol" feature where you can walk around the streets and lookout for villains trying to make a ruckus. You can also gain in-game bonuses and buffs, meet other heroes, participate in mini-games, and even answer quizzes about the Anime and the world of My Hero Academia.

Game features:

My Hero Academia Mobile will follow the anime's plot starting with the UA "Enrollment Examination" arc. Relive the memorable moments, watch cutscenes from the anime, and become the strongest in UA.
Collect and upgrade your favorite heroes and villains like the 9th successor of One For All, Deku, the number one hero, Almight, and even the super villain, All For One.
Extensive battle system which makes players really think about strategy, teamwork, team formation, and many more.
Each character has their own special move, and special quirk skills which can be learned, upgraded, and mastered as you progress through the game.
Unique equipment to collect and upgrade. Assemble Bakugo's Grenade Gloves, collect Almight's costume from Bronze to Golden Age, and upgrade Deku's costume from Alpha to Gamma!
Numerous Multiplayer social modes to participate in. Gather your friends and work together in the Boss Raids, join guilds called "Offices" and debut as a professional hero to fight against evil criminals!
My Hero Academia Mobile is currently in Closed Beta Testing period in China. If you want to test the game out, we'll leave the download link here. There's no word yet if it will have a global version sometime in the future. We'll just have to cross our fingers and wait. Don't forget to follow Enduins for more gaming news and information!