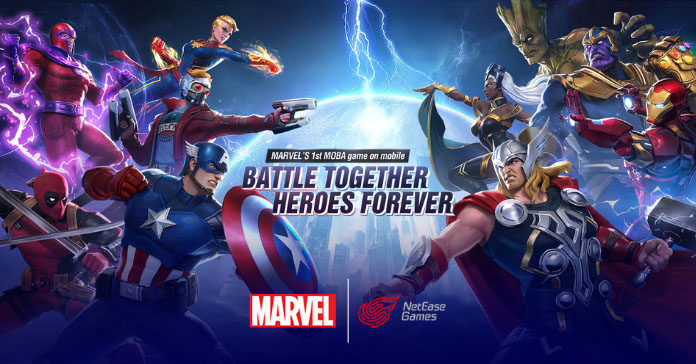 A few weeks back, NetEase and Marvel Entertainment announced that they will be collaborating to create multiple projects, including mobile games. Today, they revealed the first their first project – MARVEL Super War. It is a brand new 5v5 MOBA mobile game which has officially begun its closed beta testing for Android and iOS devices in Southeast Asia and India.
It's an epic clash only Marvel can deliver! Marvel Super War gathers superheroes and supervillains from across the Marvel Universe into one 3-lane map to duke it out and come out victorious. From The Avengers, X-Men, up to the Guardians of the Galaxy, and everyone in between, players can choose their favourite Marvel characters to fight it out in the arena, using their unique and powerful abilities to dominate the battlefield! MARVEL Super War states that they focused on fair combat and balanced gameplay. There is no rune system in the game, and it is replaced by a completely open and free buff system. This means that reputation and achievements can only be earned through a player's skill and perseverance.
Another key feature of the game is its clever implementation of different powers of the Marvel heroes. Everyone in MARVEL Super War has a set of skills and abilities that can be linked together to execute powerful combos, which adds real depth to the game.
Game features:
Heroes Clash! Real-time 5v5 Arena – MARVEL Super War features Superheroes from across all the Marvel franchises. Play as your favorite character or choose from a huge cast of Heroes and Villains, each with unique styles and skills, and join the ultimate all-star brawl.
Fair Combat! Balanced Gameplay – No pay-to-win rune system! Balanced heroes mean balanced combat. Reputation and achievements must be earned through skill and perseverance. Enjoy the thrill of beating your opponents in fair fights.
Simple Controls! It's your time to shine – The stage is yours! Battle it out with responsive and simple controls. Show your strength with special attack combinations, dynamic effect and movement abilities.
Team Up! Fight with your mates – Experience the action, anytime, anywhere. Team up with your friends, assemble your dream team and journey together into the new Marvel MOBA-verse.
MARVEL Super War is currently in Closed Beta Testing (CBT) until June 10. It is available on both Android and iOS devices for Thailand, Malaysia, Indonesia, the Philippines, and India. After the CBT, all data will be wiped to give way for the official OBT, which is yet to be announced.