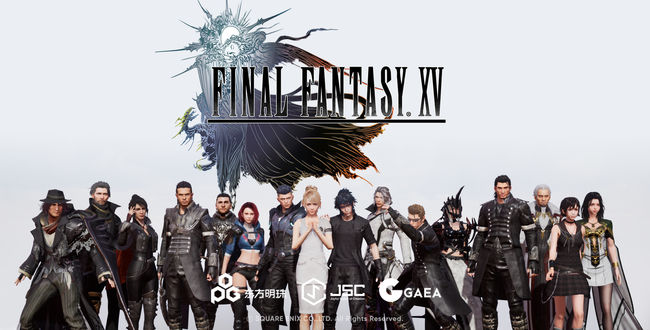 Korean game developers, JSC and Square Enix, the Japanese game devs behind countless beloved games, has announced that they will be working on a brand new mobile game based on the world of Final Fantasy XV. They'll be partnering up with another game dev, GAEA to create the game while Shanghai Oriental Pearl will publish the game which aims to release the game in the Chinese market first.
Final Fantasy 15 Mobile (tentative name) will be a mobile MMORPG based on FFXV by Square Enix, released for PS4 and Xbox One in November 2016. Unlike the original game, this new spinoff will be a large-scale multiplayer, optimized for the mobile environment. You can enjoy various battles with simple touch operation. It will also have new content that was not included in the original story of FFXV, further expanding the game's lore and world.
Additional info reveals that the story is set in a parallel world of the original FFXV's setting. The story begins shortly after Prince Noctis begins his journey on the royal road. The player becomes the main character, travels with friends and saves the world from threats. In addition to the existing world map, new areas such as the Great Pagoda and the continents floating in the sky will be added. The concept for this mobile MMO spinoff will revolve around the "Origin of Mythology" and will implement elements from the Final Fantasy XV Royal Edition JRPG game for PS4. This new mobile game will be created with Unreal Engine 4.
Park Ji-young, CEO of JSC, said "Final Fantasy XV mobile has an immersive story, attractive characters, and a JRPG-specific feels. We are doing our best to implement it (the FF signature style and feel)."
JSC and GAEA are no strangers to Square Enix games and big titles as they have previously worked with multiple Final Fantasy titles, the Hitman Series, and Just Cause.
[Read more] Best Upcoming MMORPG Mobile Games Of 2020
FFXV Mobile Online, as mentioned before, is set to release in China first, but a global market release already planned. More information about the game will be revealed along with the official video trailer in the first half of this year. No release date was mentioned, but we'll be sure to keep a lookout for any new updates.