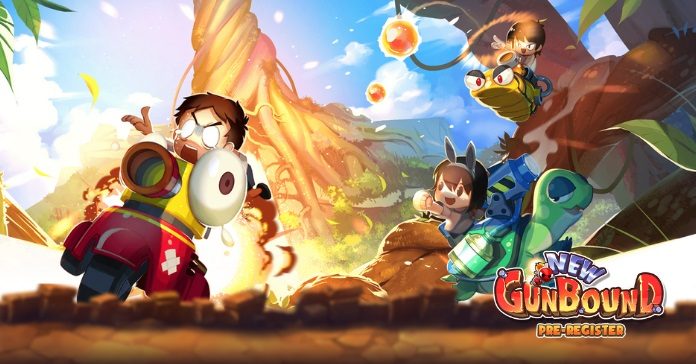 Electronics Extreme has just announced that the pre-registration period for New Gunbound has now started! The game is the sequel to the classic 2D PC shooter game, Gunbound and is officially licensed by Softnyx.
Just a bit of a recap, the game serves as the official sequel to the PC game. It will retain most of the original contents of the original with the addition of a new real-time mode where you combat will be in real-time. The sequel will also introduce new RPG elements to Gunbound like the adventure mode and boss raid and quests.
Players who pre-register now will receive exclusive rewards and get the chance to participate in the limited Stress Test which will occur at the end of July. The test will be available for Android users only. Every pre-registered player will receive all the following items when the game fully launches:
Ruby Box 3,000 ea
EXP Stone 50 ea
JD Piece 10 ea
Gold Pile 500,000 ea
Silver Key 50 ea
Gold Key 50 ea
But wait, there's more! If the number of registers reaches a specified amount, everyone will receive in more in-game milestone rewards!
Milestone Reward:
20,000 ID Registration get JD Piece 10 ea
40,000 ID Registration get JD Piece 10 ea
60,000 ID Registration get Ruby Box 2,000 ea
80,000 ID Registration get Incubus's Tiara(M) / Succubus's Tiara(F) 15 Days
100,000 ID Registration get JD Piece 20 ea
New Gunbound will enter two phases before officially launching. The first is the limited access stress test where lucky players will be able to play the game with the developers and give feedback and improvements for the game. The second phase is the soft launch. Everyone can enter this phase and fully test the game before it officially launches. All character data will be deleted after the soft launch period ends.
You can pre-register for New Gunbound on their official website. The game is scheduled to launch soon for Malaysia, Thailand, Indonesia, Singapore, and the Philippines. Excited to play this nostalgic game once again? Let us know what you think about it, and don't forget to follow Enduins Gaming for more gaming news and info!