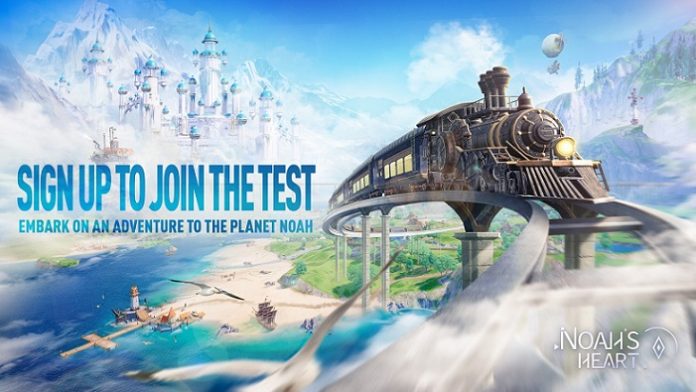 Archosaur Games, the same company behind hit mobile MMORPG, Dragon Raja and World of Kings, is preparing to begin their highly awaited Closed Beta Test for their next biggest hit: Noah's Heart, their brand new open-world MMORPG set to rival Genshin Impact and Tower of Fantasy.
Developed by Zulong Entertainment, Noah's Heart will offer its players a huge open world with plenty of quests to accomplish. Made with Unreal Engine 4, the game's goal is to give its community a legitimate MMORPG experience by taking the role of an adventurer in the planet Noah, a high fantasy world mixed with steampunk aesthetics. Discover the mysteries hidden in every corner of the planet and discover the Cube, an anomalous object that is the main reason why you set off on your grand adventure.
Choose your weapon from 4 different types: Sword and Shield, Bow, Dual Blades, and polearm. Further your profession and gain riches by learning to craft materials. Become a tailor, a cook, or craftsman, sell your goods or trade them for other materials.
Aside from the top-notch visuals the game will offer a procedural content generation giving players a seamless experience, especially when you're exploring the insane 65 million square meter world, full of different explorable areas and biomes. Additionally, there will be a day and night cycle, weather changes, and immersive content giving the game another layer of immersion.
Aside from that, there will be the usual RPG elements like quests, NPC interactions, guild system, raids, instances and many more. You'll also encounter specific quests where you will need to choose actions that will drastically change the course of the story which you can never replay so choose wisely. Picking an action may spell life or death for the various NPCs you'll encounter in the game.
And did we mention you'll get to fly your own airship? Explore the world in style with your own flying contraption, giving you a bird's eye view of the land. Not much has been revealed about the ship's other features but we do hope it can be upgraded and customized.
Noah's Heart's Closed Beta Test will begin on December 21 and will on on the 27th. Players can sign up now by going to this link. The game is slated to release for mobile devices globally, but no official date has been announced just yet.