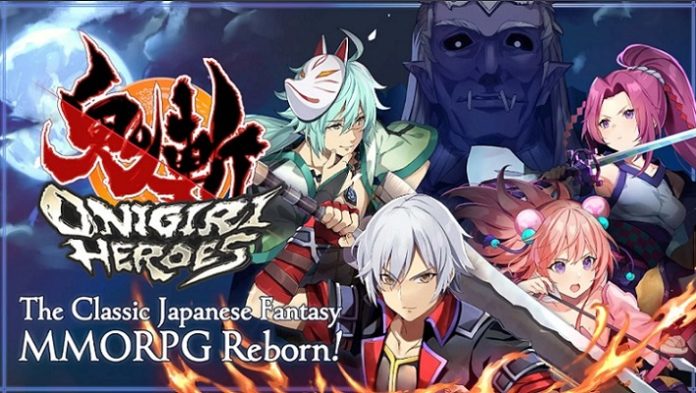 Japan-based game developer Cyberstep, popular for their successful PC games like Cosmic Break and GetAmped, has recently opened the pre-registration phase for their brand new mobile MMORPG, Onigiri Heroes coming soon to Android and iOS. Unlike other games coming from Japan, this one will launch globally right off the bat!
Ancient Japan has been rocked by chaos. The evil being Kamikui has risen once more after breaking the three seals the great god Amaterasu Oomikami placed upon the lands. Now malevolent spirits and monsters are gathering to Kamikui's side once more to cover Japan and the entire world into darkness once more.
To combat this massive threat, you'll become one of the adventurers who took it upon themselves to fight and save ancient Japan and bring peace once again. Visit iconic areas through Japan's history including Onigashima, Sekigahara, Kyoto, and Edo. Explore beautiful landscapes thanks to the game's open-world setting.
The game is easy to learn and play with simplified controls with dedicated skill buttons and helpful combat features like a guard and evade buttons.
Game features:
Partner Character – Onigiri Heroes will have a number of Partners who will fight alongside you. In addition to famous Japanese warriors and generals such as Miyamoto Musashi and Oda Nobunaga, there are also many unique characters, such as Ifrit and Gargoyle, some of which become controllable characters with unique fighting styles that the player can enjoy.
Various Weapons – Players can choose between 8 different weapon types and their fighting styles, including swords, oodachi, axes, twin blades, bows, lances, staves, and wands.
Skills – Players can equip up to 5 skills with one weapon, and each skill is highly customizable.
Buff Items – Sake can be used to provide limited-time buffs to the player character. There are also various types of sake bottles that can prolong their effects or hold more servings per bottle.
Onigiri Heroes is set to globally launch sometime in the first half of 2022 for both Android and iOS devices. Players can pre-register now via their official website while Android users can already sign up now through the Google Play Store.