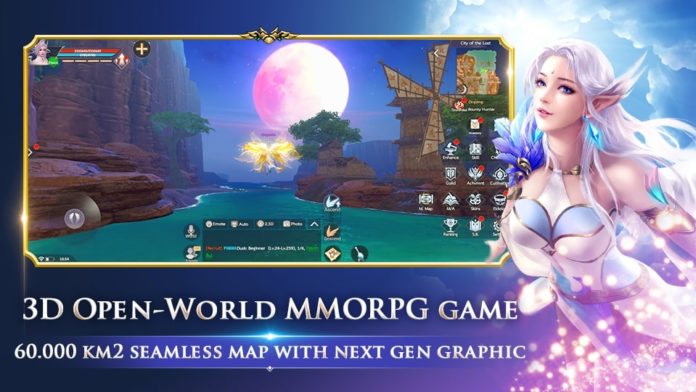 The early 2000s was a huge time for MMORPG. One of the games that particularly gained massive popularity was Perfect World. Now after 13 years, the game is finally coming to the mobile platform thanks to publisher VNG who will be launching the title for Thailand and the Philippines!
Perfect World VNG – Fly With Me is a free-to-play role-playing 3D Open World MMORPG game that is developed by the Official Perfect World Company and published by VNG. Do note that PWM has already launched a global version and has been in service for quite some time. VNG's PWM will be an exclusive version for Southeast Asia with TH and PH being the first countries that will be getting the game.
Perfect World is a beautiful and huge continent made by the god, Pangu. In this continent, different races lived in peace together for a long time. One day, the Wraiths, an army of evil and dark entities, long thought to be extinct returned in full force. They are more corrupt and malevolent than ever before, hellbent on one single goal: to destroy the Perfect World. You, the player will take the role of one of the new generations of heroes tasked to protect this Perfect World and bring the peace back to the lands.
Perfect World Mobile brings the original game's famous flight system which honestly is a relief since the world of PWM is HUGE! Fly and explore within the three-dimensional panoramic map allowing you to explore the massive 60,000 square kilometer continent. Engage in epic battles across the vast continent whether they choose to do battle by air, on land, or in the oceans. Fan-favorite races are making a comeback as well including the magic attuned Humans, the Winged Elf who are one with nature, and the wild and powerful Untamed. All have made their return to the Perfect Continent!
Game features
3 Races – 6 Classes and 7 characters appearances. The Human: Wizard, Blade Master. The Untamed: Barbarian, Venomancer. The Winged Elf: Cleric, Archer.
Wage wars in massive multiplayer dungeons and claim your glory in epic guild conflicts.
Rich and micro character appearance customization: body, face, clothes.
250 fashionable skin items, create your own character style with friends and lovers.
Full PK system: FreePK, PvP, PvE, cross-server diversity PVE every day.
PVP: 1vs1, 3vs3, 6vs6, 24vs24 and unlimited guild war.
PVE: dungeons, guild, party, world bosses, guild bosses.
Experience the wedding parties with an in-game partner: invite friends, receive wedding gifts, dance, and cheer together.
Perfect World Mobile is set to officially launch on August 20, 2020. Download the game now on the Google Play Store and iOS App Store. Visit their official social media page for more information. Are you ready for Perfect World? Don't forget to fly with us! See you on the continent, gamers!