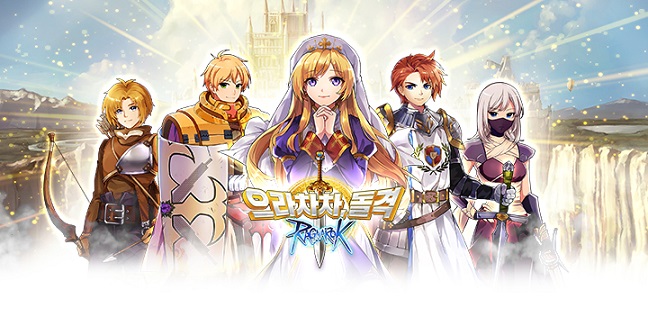 Ragnarok: Love at First Sight (CN) by Tencent Games will be conducting a brand new Closed Beta Testing period this week and Eurachacha, Assault! Ragnarok (KR) is going to launch as well. Curious as to what is the difference between these two new titles? Let's read on and find out.
Ragnarok M: First Love (CN) is a mobile MMORPG based on the popular RO franchise, developed by Tencent Games. According to Gravity, they are targeting a 2020 launch for the game, as mentioned in our Gravity Q2 Update. The game will retain the original Ragnarok Online concept, will have a full 360° camera view, dynamic weather system, and a day and night cycle. Although a rough release date has been announced, there is no mention as to which region will Love at First Sight launch first. 
The new (4th) Closed Beta Test will start on September 17, 2019, for China and will have new content added including the implementation for the day and night cycle, climate change (rain, sunny, snowy, windy, and more), climbing, and the PvP system that can accommodate up to 20 players. Only a handful of lucky players were able to join the CBT during. Still, if you're curious about the game or just want to be updated with this highly anticipated MMO from Tencent, you can visit the game's official website for more info.
Eurachacha, Assault! Ragnarok
Meanwhile, another RO title is getting ready to launch this week as well, but this time, it will be an official release for Eurachacha, Assault! Ragnarok (KR). What sets this version apart from the other RO games? This one can be played on mobile and HTML5!
Eurachacha, Assault! Ragnarok (KR) is another MMORPG under the RO franchise, developed by Dream Network Shanghai and will be published by Gravity. Players will be able to play the game in a variety of platforms including mobile, and PC web browsers (HTML5). One of the main features of the game is that it will have autoplay and the party system where you can add another character you made yourself into the party. Up to 5 characters can join. 
Even though both mobile and PC version shares the same game title, there is no cross-platform so no data will be shared between the two versions. The mobile version will be played on a vertical screen, while the PC/browser version will have a landscape orientation.
"As for the type of service  I have been very concerned since the beginning of development.  But when I think that the characteristics of mobile and PC players are different, so we decided to provide separate services, but if there are feedback or suggestions from players about it we will have to combine the 2 versions."

Jeong Il Tae, EA!RO Team Leader
Eurachacha, Assault! Ragnarok's gameplay will focus more on auto-play. The game will still run even if the player is offline and will still receive prizes. According to Gravity, this will give the players more time to focus on other contents like PvP, Territory battles, Guild Wars, and less time worrying about grinding. Eurachacha, Assault! Ragnarok is set to launch on September 19 for South Korea. You can visit the game's official website for more info.
Which of the two RO titles are you looking forward to the most? Let us know, and as always, don't forget to follow Enduins for more gaming news and information!