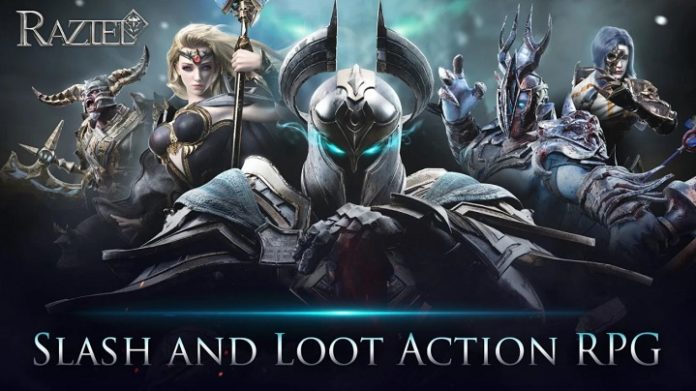 Looks like game developer and publisher Indrasoft is trying to beat Blizzard to the punch as they have recently launched the pre-registration phase for Raziel: Dungeon Arena, their answer to Diablo Immortal, and yes, this is a dungeon crawler RPG with that nitty-gritty dark atmosphere and action-packed horde slaying gameplay.
Raziel, like mentioned before, is a dungeon-crawler RPG inspired by dungeon crawler games like Diablo 2, and Torchlight. Well, more like born from Diablo 2 since Philip Shenk, the lead designer for Diablo 2 actually came aboard to assist in the development of Raziel. The developer, Indrasoft, is a small company housed in Guangzhou, China. They've been involved in some pretty heavy game titles like Saints Row, Tomb Raider, and Final Fantasy to name a few.
You know the gist. The world plunges into chaos because of evil beings and you'll be in control of a hero trying to protect the world. There will be three available heroes (classes) starting off, and an additional two more heroes can be unlocked by progressing through the game. Of course, new heroes will be introduced down the road. As for gameplay, everything you wanted from a Diablo clone is here. A huge dungeon you can roam and discover, huge hordes of enemies coming at you all at the same time, epic boss battles, piles of loot drops, and many more. Like solo quests? Make your way through Raziel's 60+ single-player dungeons. Prefer to play together? Raziel offers extensive PvE co-op dungeons. There's also a PVP arena mode to prove your mettle to all who oppose you!
Game features:
Challenging single-player dungeons require you to think on your feet in order to survive. Outwit bosses that use unique skills to stun, bind, burn, freeze, and kill anyone in their way. Outmaneuver enemies who possess spatial awareness, reacting according to their own strengths and weaknesses
Form your four-member squad to fight together in co-op dungeons. Rally hundreds of players as a guild to help you along with your exploration.
Wield 1000+ powerful weapons and armors with diverse skills. Unlock 140 talents to grant your heroes special effects. 16 active skills for each hero can be freely matched according to your choice.
Immerse yourself in a dark world filled with detailed character models, gorgeous dungeon environments, and eye-catching hero abilities. Traverse a diverse set of environments including dismal swamps, forbidding deserts, and haunted forests. Detailed sound effects provide unparalleled realism with ambient effects, authentic voice acting, and a plethora of unique sounds for character skills and abilities.
Raziel: Dungeon Arena is now in pre-registration phase on the Google Play Store. The game is published in China by Tencent, but this upcoming global version will be published by the game's main developers themselves (Indrasoft). No official release date has been announced just yet but this is one title you need to keep an eye out if you're a fan of traditional hardcore dungeon crawler games. More updates coming soon so stay tuned!