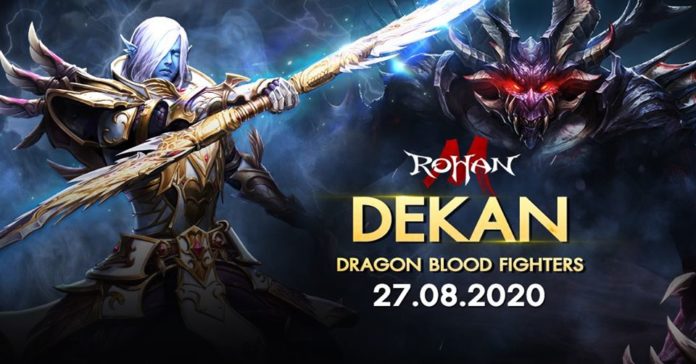 It's been a long time coming but finally, the highly anticipated Dekan Class is arriving in Rohan M! These warriors who are descendants of powerful dragons will bring new gameplay into the world of Rohan M!
Just a small recap, Rohan M is a mobile MMORPG, adapted from the popular classic PC MMO of the same name. The mobile version launched on June 9, 2020 for Southeast Asia touting Rohan's famous game features like the various classes, its PVP oriented gameplay, and the infamous Vengeance system.
Dekans are a warrior race descended from the ancient and powerful dragons. They are able to utilize their own well of vitality for offence and can even transform into a dragonic form. The Dekan races main weapon is the Zhen. It is a long weapon with two blades at each end. The Zhen is a two-handed weapon, but once a Dekan uses the Separation skill, one can divide the Zhen into 2 respective parts. It will then be held in each hand as a set of dual swords. Their main stats are their vitality, physical defence, and magic attack.
The Dekan Class is scheduled to arrive in Rohan M on August 27, 2020. Brand new events will be launched simultaneously to celebrate the arrival of the new highly anticipated class. The events will be announced once the Dekan patch is implemented into the game.
If you need an excuse to finally jump into the game, this is the perfect excuse! Download Rohan M now on the Google Play Store and iOS App store! Visit their official social media page for more information! See you on the battlefield!