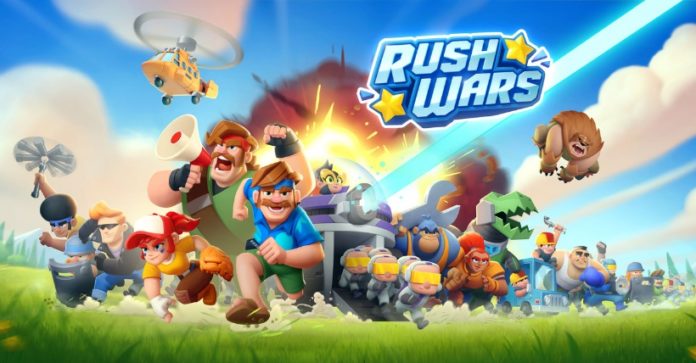 Supercell has just revealed its newest mobile strategy game for mobile! Fans have been eagerly awaiting the official announcement since the teaser dropped yesterday, and now Rush Wars has been revealed in all its glory!
Rush Wars is the newest strategy game on mobile developed by Supercell, the same people behind Clash of Clans, Clash Royale, and Brawl Stars. The game is a mix between Boom Beach and Clash Royale where there is no need to construct a base and the long wait to create troops has been chucked out. The tagline of Rush Wars is "a casual game everyone can enjoy" which is mirrored in the game's 2 simple goals: to kick butt and become mega-rich!
Players will need to construct their own attack squad by mixing different kinds of troops. The goal is to raid enemy bases and loot their gold mines. These bases are owned by other players which means your own base can be raided by other players as well. Luckily you can set up your own defenses to protect your gold. You can collect and upgrade your troops by purchasing loot boxes. Rush Wars may sound casual on the outside, but it also provides depth and challenges. Competitive players will also find a place in the game with the global ranking system.
Supercell has introduced us to an array of wacky characters throughout their previous games and  Rush Wars is no exception. You've got Pitcher, Coach, B.I.G. the robot T-Rex, Gorilla, Boxer, the Troopers, Arcade, and Bearman. All these characters are mercenaries that will eventually become your troops/commanders in the game.
Other game features:
Construct the ultimate attack squad and raid enemy territories to gain gold.
Join a team and start your own with friends.
Face off with enemy teams around the globe!
Unlock new troops and discover the world of Rush Wars with free loot boxes.
Collect commanders each with different abilities to lead your squad in battle.
Protect your own gold mine from other players and discover different areas like Mega City and Area 51.
Rush wars is currently soft-launched for Canada, New Zealand, and Australia. Countries outside the soft launch regions will have to wait for the game's global release to play. Rush Wars is available for both Android and iOS. We'll be sure to update you when the game hits the global market, so don't forget to follow Enduins for more gaming news and information!