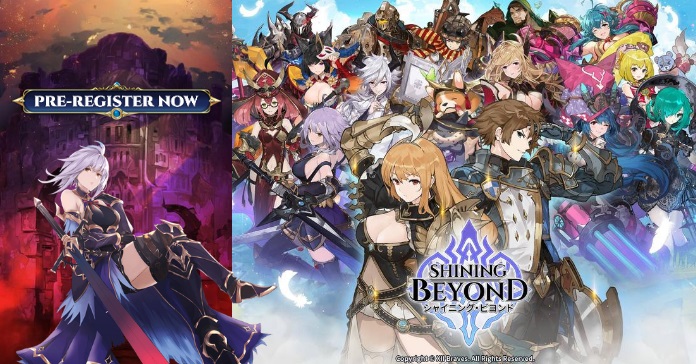 XII Braves, the developers and publishers behind the popular Valiant Force Mobile game, is preparing to launch the Open Beta Test phase for their brand new epic mobile RPG, Shining Beyond, and selected parts of the US this month.
Shining Beyond takes place in a world enslaved by Darkness were a small group of heroes bands together to form a resistance against this evil. Their aim is to rise up against the New Empire and shine beyond the darkness, becoming a beacon of hope against this Tyranny. The hero of the story, Jake, his friends, and trustworthy allies must fend off waves of dark forces pouring out of an Abyssal gate, holding off the minions whose only goal is to rejoin Emma's (the antagonist) main forces and commence their takeover of the world of Arathos.
For those Valiant Force fans, Shining Beyond will be a treat since it takes place in the same world, running parallel with the events of Valiant Force. These two universes from different titles must unite to achieve a common goal and bury Emma's dark plot once and for all.
Players will build a dream team of 4 heroes from a roster of over 50 available characters. Customize each hero to execute stunning combo moves with one another, and provide support on the battlefield. You can customize not only their characters, but their entire playstyle. You can spend an evening clearing dungeons, action-RPG style, or choose to let the AI help you play through the night to completely remove the strain of the grind.
Co-op is a very important feature to the world of Shining Beyond. Link up with two other friends to take on enemies as a trio, facing down enemies with a combined party size of 12. Players will be able to take on the biggest, most dangerous enemies as a team.
Shining Beyond is set to launch its Open Beta Test on August 27, 2020, 12:00 (GMT+8) for Taiwan, Singapore, Malaysia, Indonesia, and The Philippines, as well as selected parts of the US. The game will be available for Android, while iOS will follow suit. All game progress will carry over to the official launch. Visit their official website to pre-register now before OBT launches! There's a ton of in-game goodies up for grabs so be sure to sign up! Do you think Shining Beyond will be as popular as Valiant Force? Let us know!