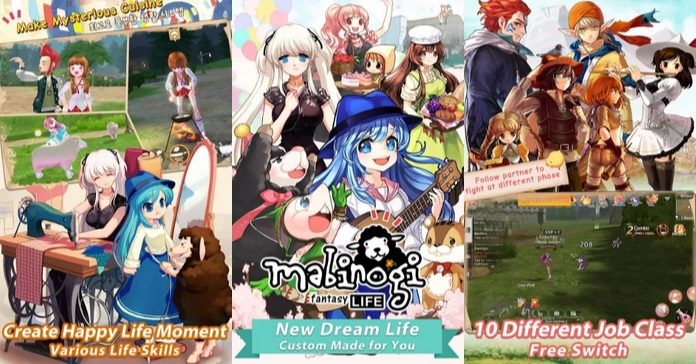 Surprise! With no announcement and none of those pre-reg mumbo jumbos, Mabinogi: Fantasy Life just launched out of nowhere! This mobile game adaptation of the Mabinogi PC game blends 2 game genres into one: RPG and social life simulation! Become an adventurer or just lay back and relax with your friends, it's up to you how you wanna play the game!
Mabinogi: Fantasy Life is a social mobile RPG published by SIAMGAME. They are officially authorized by Nexon to publish the game and is currently available now for Southeast Asia. Do take note that this is a different Mabinogi game from Nexon's Mabinogi Mobile which has yet to come out. As the name implies, players can create their own fantasy life in Mabinogi. Aside from the RPG elements, players can be whatever they want to be in Mabinogi. If you're tired of adventuring and defeating monsters, you can sit back and enjoy your second life as a chef, a DJ, a dancer, singer, and many more and enjoy the social aspects of the game with your friends. You can even add the NPCs to become your buddies!
For the RPG side of things, Mabinogi offers 10 different Job classes that you can switch between freely: Fighter, Archer, Mage, Alchemist, Bard and so on. Each job class offers different playstyle and purpose. Other RPG elements also include Raid mode, Rath Dungeon, Cheese Brawl, and other various PVE and PVP modes.
Meanwhile "Life" class offers players a different path whereas in other games, you can only be a fighter or a hero that is tasked to defeat evil threats. But in Mabinogi, you can give up on that and just be someone else entirely. Wanna be a chef who can cook delicious meals? Go for it! A tailor that can make amazing costumes? Why not! Maybe even a farmer and grow crops! It's all up to you, the player.
Tired of adventuring? Set up camp with your friends, talk, chat, cook and just enjoy the laid back atmosphere. No pressure leveling up or grinding. Just sit back and relax! You can even do a musical performance with your band if you wish to when you have nothing else to do! Additionally, you can even have your very own place. Decorate it however you like, upgrade it and even start your own garden.
And for veteran Mabinogi players, you'll be glad to know that the core elements of the original PC games will also be present in Fantasy Life including the age system, character generation, and character rebirth.
Mabinogi: Fantasy Life is now available for Android and can be downloaded through the Google Playstore. No word as to when the iOS version will be available. What's your take on the current trend of blending game elements? Do you think it's a winning formula for games these days? Let us know and follow Enduins for more gaming news and information