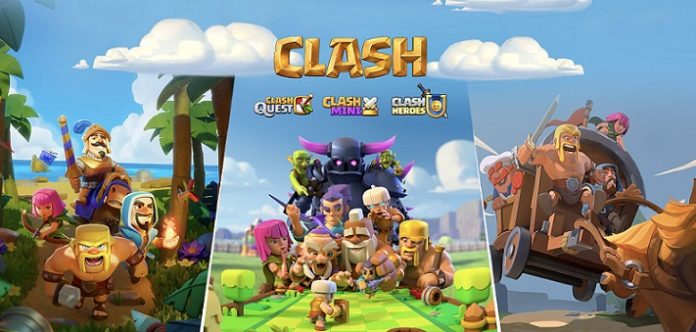 Clash of Clans developer Supercell has announced earlier today that they are making three brand new games under their "Clash" franchise namely Clash Mini, Clash Quest, and Clash Heroes, each with their distinctive gameplay.
All three games are currently in development so there's not much solid information about their gameplay mechanics just yet. But Supercell revealing their projects this early in development is extremely rare. More surprising is that they made an introductory video that gives some information about the 3 new clash games. Take it as a treat for Clash fans.
Clash Quest
The first one on their list, the game is a turn-based tactical adventure strategy game. In their own words, Clash Quest seems to be a simple game at first but once you get into it, it becomes more in-depth and complex. Players will begin with a handful of starting units and will face off against pre-set enemies in every stage. The more stages you finish, the more units you can obtain which will of course bolster your fighting power. Each stage offers a different challenge. There are also boss stages and even items you can equip your units, both a first in the clash series. If you ever played Legend of Solgard on mobile, then you'll get a good idea of how the mechanics work on Clash Quest.
Clash Mini
Auto Chess. Need we say more? But this is more of a casual Auto Chess game. The board will be smaller and units will have a simplified set of skills. Players will place down their units on the board at the same time and watch them fight automatically. Clash Mini will focus more on strategy and unit placement rather than unit control. The units will have a different aesthetic in this game compared to other Clash games. The design makes them look like Funko Pop figures hence the "mini" in the title. It's light-hearted and intended to be easy to play but with a lot of depth.
Clash Heroes
Made with Unreal Engine 4, Clash Heroes seems to be a dungeon crawler game with RPG and bullet hell mechanics added into it. Just like the other Clash titles, Clash Heroes is a bite-sized experience. Whether you're on a break and only have 5 minutes to play, or hours to burn, Clash Heroes was made for every type of player, casual or not. Early gameplay footage of the game looks very promising. There's even a multiplayer mode which means you can enjoy Clash Heroes with your friends or family. Out of the 3 new games announced, this one seems to be Supercell's biggest project.
Supercell emphasized that Clash Heroes is still in very early development which may give us a clue that we may see Clash Quest and Clash Mini launch first. But be reminded that Supercell is notorious for killing off games during Beta when and if the game doesn't meet the company's and the players' standards. They've also mentioned that they are working on other non-Clash-related projects. Talk about getting busy! If you're highly interested in some of these new games, show them support so Supercell can see what games the community wants to see get an official launch. For more information, visit the official Clash website!