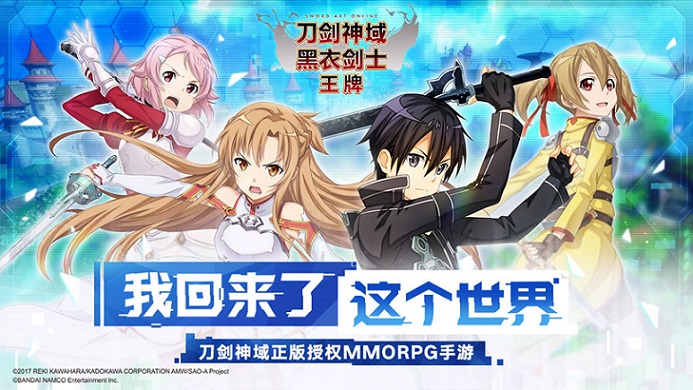 The highly anticipated Sword Art Online Black Swordsman: Ace mobile MMORPG based on the popular light novel/anime is now set to launch in China in June.
Officially licensed by Bandai Namco Shanghai, the game will follow the story of Kirito and Asuna during the Aincrad arc. Publisher Bilibli has stated that they have been optimizing the game since its last beta test back in January. A brand new slew of new events, weapons, and new gameplay features will become available when the game is fully released.
In the year 2022, the world's first-ever full dive MMORPG game, Sword Art Online (SAO) finally came out. But in reality, it was a trap where 10,000 players cannot log out from the game. And if you die in the game, you die in real life. What was supposed to be an amazing experience is now a living nightmare. Now players will be forced to clear all 100 floors of the floating city of Aincrad in order to log out from the game and come back to reality. If they can survive.
Game Features:
Challenge the 100 floors of Aincrad and be mesmerized by the perfect recreation of familiar places from the anime. From towns, grasslands, deserts, to forests; the 100 floors of Aincrad are beautifully restored, and each layer is different.
Revisit the classic chapters of SAO from a more personal perspective, revisiting the classic plots one by one! There are even original new characters that will embark on adventures together with you!
Hundreds of character skill card collections, strategic combinations, and sword skills, there are infinite possibilities for character customization. There are also casual modes like cooking, fishing in the wild, exploring treasure chests, and many more.
The floor boss from the anime and light novel is faithfully reproduced. Assemble your raiding team and try to defeat all 100 floors.
SAO anime's original seiyuus (voice actors) will be reprising their roles including Matsuoka Tejo, Tomatsu Haruka, Hayami Saori, Takagaki Saiyo, Taketatsu Ayana, Ito Kana, and Hidaka Rina.
Sword Art Online Black Swordsman: Ace is set to launch on June 9, 2021, in China. No word on a global version just yet.