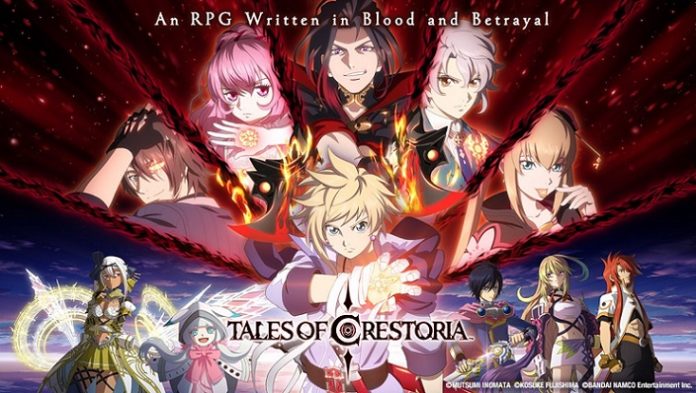 Bandai Namco has released quite a lengthy message citing that the anime mobile RPG, Tales of Crestoria is scheduled for a June 2020 release after months of delay and setbacks.
Tales of Crestoria is an anime-themed mobile RPG published by Bandai Namco Entertainment. It is a brand new addition to the Tales game franchise. To recap the game's plot, Crestoria takes place in an oppressive dystopian world where every person must carry with them a Vision Orb: a device that can see everything you do and monitor your actions for criminal violations. The game's protagonists Kanata the son of the village chief who runs an orphanage, and Misella, a beautiful young girl under Kanata's care are thrown into chaos due to the horrific events of one fateful night. They committed a sin and marked as Transgressors, condemned to death by society's popular vote. With eyes now opened to the injustices of society, a chance meeting with Vicious, "The Great Transgressor," gives Kanata and Misella a defining choice: Own your fate, or let fate own you.
The message also enumerated some of the things the developers have been working on to improve the game. This includes full voicing for the main storyline (which will be in Japanese), specially illustrated cut-ins, and final touch-ups to TOC. Additionally, a special theme song and promotional video will be released on April 26 to mark the upcoming launch of the game.
Game features:
AN ORIGINAL TALES ANIME RPG STORY – Experience this epic new Tales anime RPG saga. Help Kanata and his fellow Transgressors survive the world of Crestoria. Voice acting from an All-Star Voice Cast help bring this Tales story to life.
CLASSIC ANIME RPG TURN-BASED BATTLES – Intuitive turn-based RPG controls. Link epic Mystic Arts to perform massive combo attacks. Strengthen and upgrade your characters' skills.
TALES CHARACTERS FOR A NEW AGE – Add newcomers Kanata, Misella, Vicious, and more to the list of memorable Tales characters. Unlock character episodes through battle to learn about them outside of the main anime RPG story. Follow the characters' Face Chat conversations that provide short & fun insights on character thoughts.
NEW MEETS CLASSIC – Create the ultimate Tales dream team with popular characters throughout the Tales series. Fan favorites such as Cress, Velvet, Luke, and many more are available. Play Side Story missions with previous Tales characters in the Crestoria world!
IMMERSIVE WORLD OF CRESTORIA – Featuring anime character designs from top artists from previous Tales series. Stunning anime 3D visuals bring the colorful fantasy world of Crestoria to life. Smooth character animations add to the epic turn-based anime RPG action.
Tales of Crestoria will be the first title in the series that will be released worldwide all at the same time so it's fairly a big deal and the pressure is no joke. You can pre-register now by going to the Google Play Store. Bandai Namco plans to do a limited open beta (Early Access) in May to assess how much load the servers can handle and thoroughly tweak it so the global launch will have no hiccups.