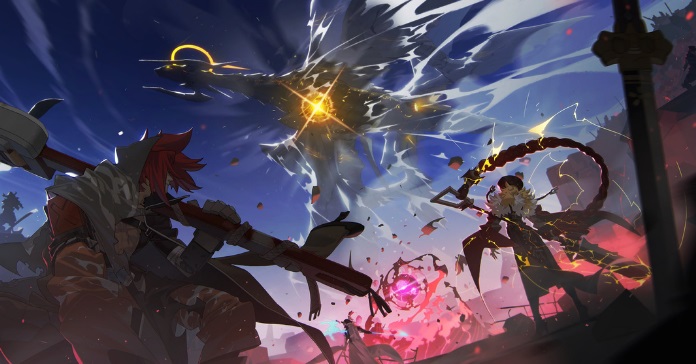 Tencent Games and game developer Tourdog Studio has recently begun the English pre-registration phase for their brand new strategic puzzle RPG, Alchemy Stars. The game is a blend of "connecting tiles" style puzzle gaming, coupled with RPG and gacha elements two game mechanics we don't often see getting mixed together.
The game is set in the world of Astra where the benevolent beings called the Aurorians and Caelestites have inhabited the lands since the dawn of time. Peace reigned over Astra for hundreds of years, until the dark creatures called Eclipsites were influenced by a mysterious organization and were used to invade the lands of Astra. The Caelestites were purged, and you the player are the sole survivor. You were driven to seek salvation deep underground where you're just barely surviving. 17 years later, an Aurorian stumbles upon you by chance and brings you back up to the surface. Forced to accept the truth, you now seek to retake Astra with the help of the Aurorians.
Game features:
Navigate the Colossus, a relic from your ancient civilization, and journey from the Holy City, through savage deserts, and across the land with a loyal band of allies, each unique unto themselves! The time has come to lead the Light and create a legend all your own, shining hope upon the future of the world!
Superb Art Style and Graphics! The team of talented artists proudly presents the Aurorians! Each bursting with personality and perfectly depicted in lush detail through their breathtaking battle animations and overall design.
World-class Voiceover Cast that will immerse you in a captivating fantasy world and bring each unique character to life.
Original turn-based combat. Master elemental attributes to formulate the optimal plan of attack.
Optional auto-combat mode is available as well. Gameplay is accessible enough for even the most casual of gamers.
Alchemy Stars will begin their Closed Beta Test in Japan soon with the English version up for pre-registration at the same time. You can sign up now via the Google Play Store and the iOS App Store. No exact release date has been announced just yet. As ancient forces collide, harness the power of the Light to save the world from darkness!