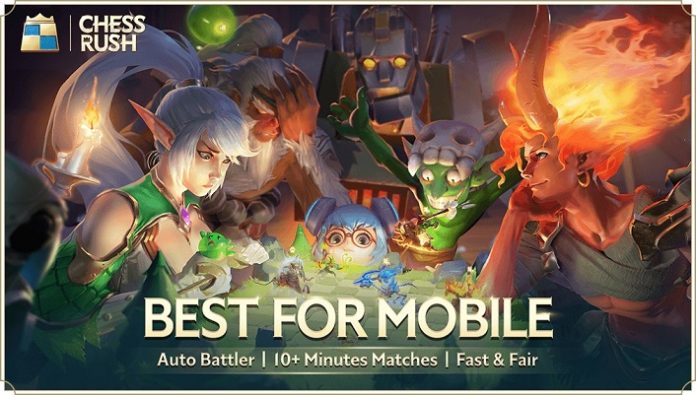 2019 is the year of auto-battler! Despite a lot of competition in this brand new game genre, Tencent Games announced that they will be releasing their very own auto-battler mobile game called Chess Rush just a week ago. Now the game has finally launched.
Chess Rush is an all-new strategy auto-battler that is now available for Android and iOS devices. The game is fully optimized for mobile and will feature over 50 heroes, each has their own specific class, race, and synergy. Players will do battle on an 8×8 field that resembles a chessboard. If you're not that familiar with how auto-battler games go, you'll be collecting heroes, upgrading them, make synergies, and put them strategically on your board. Every round is automated, where you either need to defend against or attack one of the 7 players you are competing with for the top 3 spots. Last player standing wins the match.
Chess Rush will support online co-op play and will be introducing two game modes: Classic mode and a brand new Turbo Match which has never been seen in previous auto-battler games. When playing in Turbo Mode,  players will compete in quick 10 minute matches. The co-op mode will let you invite your friends and form a team of 2. A match will be against 4 teams, each team trying to knock out others to emerge as the tag team champions.
The game also improves in a lot of aspects of the auto-battle genre. The graphics are smooth and the visuals are stunning. You can really tell the game has been polished albeit in secret. Tencent is really good at hiding their game development. There are also skins for heroes, and player avatars to collect, daily quests, and level quests.
Other auto chess games better watch out cause Chess Rush seems to be gunning for the top spot on day one! Are you a fan of auto-battler games? Will you try out Tencent's own version of Auto Chess? Let us know!