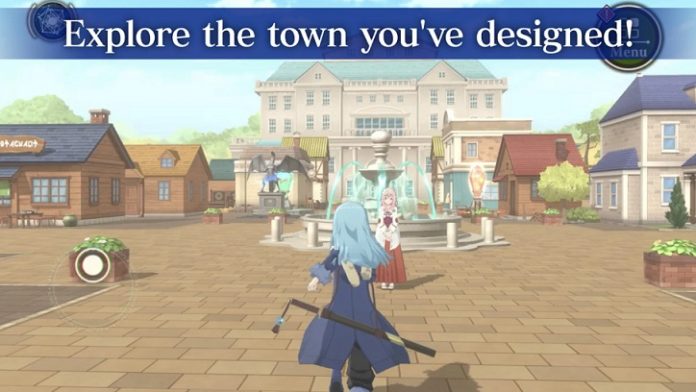 Bandai Namco has recently announced that the global version for That Time I Got Reincarnated As A Slime ISEKAI Memories' pre-registration phase for Android and iOS is now open! This is a brand new game with a mix of RPG and city-building mechanics that will be based on the popular anime/light novel of the same name.
In Tensura Memories, players will enter the world of That Time I Got Reincarnated as a Slime where you'll be able to create your own team consisting of your favorite Tensura characters, at the same time, build your own city inside the Jura Forest. Start from being a lowly village to a huge city capital!
Go on brand new adventures that brings together your favorite series characters like Rimuru, Great Sage, Gobta, Shion, Shuna, Benimaru, Gabiru, and more! There will even be new characters to meet exclusive to the game!
A mysterious girl named Shinsha appears, claiming to be Rimuru's daughter. What is her relation to Izis, the witch from the "mirror land"? Will Rimuru and the citizens of Tempest survive the challenges Izis and her followers have in store? Don't miss the alternate universe versions of familiar characters like Gabiru, who has ascended the Lizardman throne in mirror land, or Shion, who evolved after absorbing her fallen comrades' souls.
For those who worry if Tensura Memories will be faithful to its source, do not worry. Fuse, the author of the original light novels will supervise the game's story.
Game features:
Relive famous moments from Season 1 of the anime in fully voiced cut scenes!
Use the nation-building system to create your ideal version of Tempest! Build and position all sorts of buildings and facilities, walk around the town you've built, and interact with your citizens to get a glimpse of their daily lives!
Deep strategic gameplay all in 3D! Enjoy as you learn to effectively use abilities drawn from the original work! Enjoy dazzling finishing move animations that will make you feel like you've stepped into the anime!
The Predator and Great Sage systems bring you deeper into the TenSura world! The Predator system recreates Rimuru's unique skill, Predator, from the original work. Use it to strengthen your characters! If you find yourself unsure of your next step, the Great Sage system is there to provide gameplay advice and guidance.
Players on Android and iOS can pre-register now. By signing up, you'll be eligible to receive the following rewards when the game officially launches:
That Time I Got Reincarnated As A Slime ISEKAI Memories is set to officially launch later this year. No official date has been released just yet. To pre-register, head on over to the Google Play Store or iOS App Store! Visit the game's official website for more information!