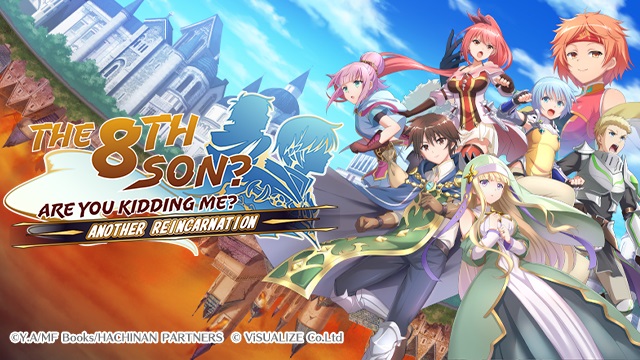 Japan-based publisher, ViSUALIZE Co has recently announced the launch of The 8th Son? Are You Kidding Me? Another Reincarnation pre-registration phase for the Google Play Store and iOS App Store! The game is the first mobile game adaptation for the anime The 8th Son? Are You Kidding Me? Which is based on the best-selling novel series with a record of over 2.7 million copies in sales.
If you're not familiar with the franchise, The 8th Son? Are You Kidding Me? is the story of ordinary 25-year old businessman Shingo Ichinomiya who ends up in the body of 5-year old Wendelin, the eighth son in a poor noble family of another world! Amidst the Machiavellian machinations of noble society, Wendelin attempts to carve out a simple life of peace and tranquility. The light novel is in serialization under Kadokawa's Media Factory Books, with 21 volumes currently in publication.
Players will assume the role of a mysterious protagonist of Another Reincarnation and will set out on an adventure to save a world on the brink of destruction with Wendelin and his friends. Players can enjoy a board game-style battle system, by anticipating the opponent's moves and developing strategies towards victory.
In commemoration of the pre-registration phase, rewards will be given to all players according to the total number of sign-ups. The number of pre-registrations is a calculated sum from all platforms including the Google Play Store, iOS App Store, and the game's social media pages.
The 8th Son? Are You Kidding Me? Another Reincarnation will be available globally. You can pre-register now through Android and iOS. Visit their official social media page for more information!