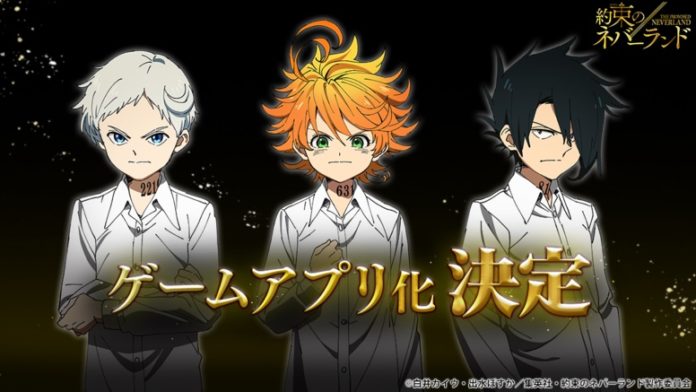 The highly popular manga/anime Yakusoku no Nebārando, or more popularly known as The Promised Neverland is getting a mobile game adaptation according to the official Twitter of author Kaiu Shirai and illustrator Posuka Demizu.
Anime fans are all but too familiar with the manga's mysterious and action-packed plot that catapulted it to fame thanks to Kaiu's storytelling and Pozuka's illustration of the main characters showing them as cheerful and innocent yet fearsome if need be, and of course the different monsters that inhabit Neverland's world that is absolute nightmare fuel. So it's no surprise that the series is getting a game adaptation since its whole premise is perfect for it.
To recap, The Promised Neverland follows the story of 11-year-old, Emma, an orphan living in Grace Field House in the year 2045. The orphan house is self-contained which houses her and 37 other orphans. Emma and the other children live a life of content and happiness: they eat gourmet food, have plush beds, wear clean clothes, and play games, all the while being taken care of and loved by Isabella, their caretaker they adoringly call "Mama". Emma, together with her best friends Ray and Norman live out their lives here with freedom except for one rule: Never go out beyond the boundaries of the orphanage.
But one night, the horrific truth dawned upon them when they found Conny, another orphan who was supposed to be adopted, dead. Killed by monstrous beings known as demons. They soon find out that their peaceful perfect lives in the orphanage are a lie and that their sole existence is to be raised and eventually be butchered to be sold as meat for the demons. And so Emma, Norman, Ray, and the rest of the orphans set out on a quest to find the truth about everything, break out of the orphanage, and escape their gruesome fate. That is if the world outside Grace Field is what they think it is.
Not much info about the upcoming game adaptation has been released yet but the official tweet did mention it is an " application" so we're assuming that it's going to be for mobile. We can also assume that it will launch locally in Japan first and maybe a global version as well depending on if the game becomes successful during its local release. A live-action adaptation is also available, but come on. We all know by now that we should avoid those. You can watch The Promised Neverland season 1, with season 2 just released this week!