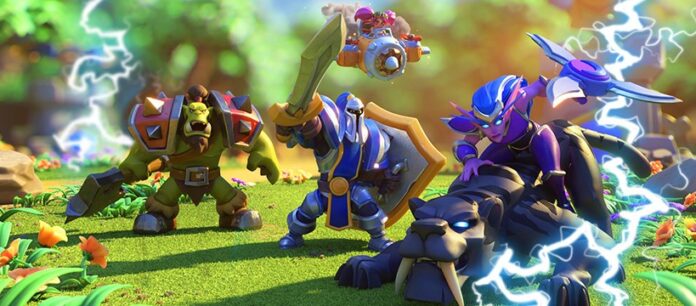 These past few weeks, Blizzard has been teasing their upcoming mobile game that has something to do with their "Warcraft" franchise. Fan theories have been flying all over the place ever since with many hoping to finally get a "World Of Warcraft" mobile version. Sadly, this is another case of overhyped expectations. Blizzard's newest game is titled "Warcraft Arclight Rumble" which they dubbed as a "Tower Offense"
About "Warcraft Arclight Rumble"
Warcraft Arclight Rumble is a Free-To-Play (F2P) mobile action strategy game where collectible Warcraft Minis come to life to clash in epic melee battles. Players can choose to participate in the massive single-player campaign or compete head-to-head in epic PvP battles. You can also form guilds and challenge co-op missions or fight another guild for prizes, bragging rights, and team supremacy. "Arclight Rumble" will feature 5 different factions: Alliance, Horde, Beast, Blackrock, and Undead. Each one has its own different play style.
"Warcraft Arclight Rumble" Game Features
Although "Arclight Rumble" will definitely gonna be compared to "Clash Royale," it has more features going for it than just straight-up PVP. Here are the game's features:
Take control of an army of Minis to defeat bosses and characters from the Warcraft universe. Play with iconic heroes like "Jaina Proudmoore," "Grommash Hellscream," and many more. Discover new maps and bosses as you fight your way across "Azeroth."
Collect over 60 units and characters from across "Azeroth." Build armies within 5 playable families and unlock new skills and upgrade your minis as you level up.
Every Mini and hero you play matters when it comes to winning. Cast spells like Blizzard and Chain Lightning to defeat your enemies and turn the tide of battle. Exploit enemy weaknesses: deploy ranged units against flyers, or use magic against infantry. Use your Minis' unique powers to build a team for any opponent you come up against.
Android Users Can Pre-Reg Now For "Warcraft Arclight Rumble"
Blizzard has recently been pushing towards mobile, no doubt bolstered by the success of "Hearthstone" and "Diablo Immortal," but the future for "Arclight Rumble" is unclear right now since there are already tons of mobile games with similar gameplay currently existing in the market. "Warcraft Arclight Rumble's" Closed Beta pre-registration period is already open for Android users while iOS will need to wait a bit longer. Players can sign up now through the Google Play Store. The game currently has no official release date just yet. For more information, visit their official website.