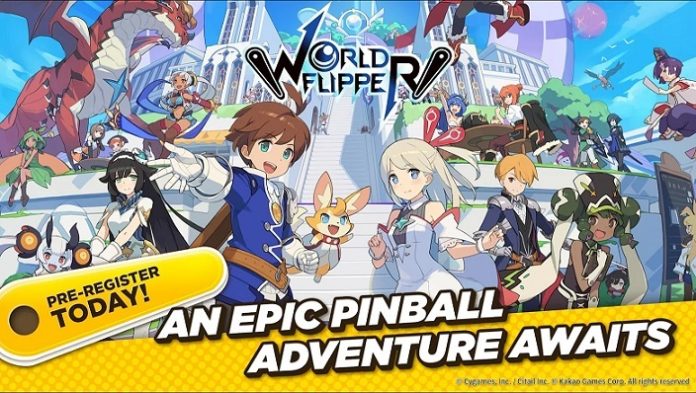 Kakao Games and Cygames has teamed up to bring a brand new action RPG game to mobile! Titled World Flipper, the game is a combination of the classic pinball game sprinkled with a lot of RPG elements, all wrapped up in anime-themed pixelated graphics. The game already had a successful launch in Japan and Taiwan, now it's aiming to launch for Southeast Asia with a global pre-registration phase already up and running!
It all started when the coming together of two lost souls caused a shift in the cosmos, and all the planets revealed themselves in their full splendor. A boy and a girl met in a forgotten village, a mote of dust lost in an infinite sky. He couldn't remember his past, and she couldn't picture her future. For a while, they dwelt together in peace and friendship, until fate struck like a bolt of lightning, bringing with it power that would change their lives forever.
That power came in the form of Light, once a great champion from a distant world, now transformed into a rabbit-like creature. He was being pursued by agents of the Dark Throne. As if to rouse the boy and girl to fight back against that malignant force, the village shifted and rumbled. Then the girl spoke the following words: "World Flipper activated."
Join Alk, Stella, and their trusty companion, Light as they journey to countless different worlds, in search of a way to reverse the effects of the World Flipper event. Meet various friends that will join you in your fantastic adventures like Phiria, Inaho, Marina, Belsidia, Sonia, Razelt, and many more!
Game Features:
Everything you love about pinball is packed into an action RPG! Experience pinball like you never have before!
Ready, aim, fire! Time your attacks right and crush your foes before they know what hit 'em. Activate skills to maximize damage!
Travel across several worlds, each with its own friends to meet and mysteries to unravel!
In World Flipper, units can pair up and combine their abilities. Find the perfect duo, and unlock game-breaking combo skills.
Team up with friends, link together skill chains, and bring down nightmarish foes!
Every character is beautifully illustrated, with episodic story arcs to unlock!
Watch the story unfold in adorable pixel animation. It's a whole epic in your pocket.
World Flipper pre-registration phase is now up. You can sign up by going to the Google Play Store or iOS App Store. The game is scheduled to launch sometime later this year and will support multiple languages including English, Korean, German, French, Spanish, and Thai. For more information about World Flipper, visit their official website.