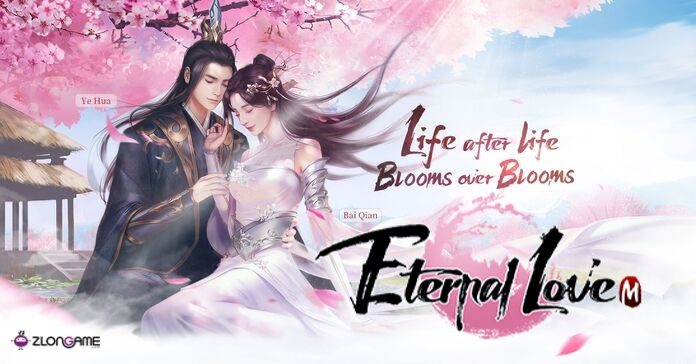 Game Publisher ZlongGames is preparing to launch the Closed Beta Testing period for their latest mobile MMORPG Eternal Love M, a game based on the classic Chinese novel of the same name.
Eternal Love M is a 3D mobile MMORPG published by ZlongGames set in the world of Eternal Love, a classic Chinese novel that tells the story of 2 lovers that were reincarnated 3 times but still fought and struggled to be with each other. From their first meeting in the Kunlun Mountains to their love on Mt. Junji, then to their reunion in the East Sea, the original plot is perfectly recreated in the game. Players will immerse themselves in the conflict between the Dragon Clan of the sky, the Plume Clan of the Netherworld, and the Kitsune Clan of the Green Hills, at the same time, experience the love between Bai Qian and Ye Hua that spans three lives.
There will be 5 classes to choose from: Kitsune, Phecda, Phantom, Majesty, and Zithon. Each one will have different weapons and different fighting styles. The game offers a lot of activities like befriending Immortals, learn new skills, exploring the Four Seas and Eight Deserts, challenge Ancient Beasts, master the flying mechanics, collect different mounts, transform into divine beasts and many more. There's also a special feature where you can develop yourself into an Immortal and ascend into a more powerful warrior via the reincarnation system.
About the CBT:
The CBT test will start on September 17 and will last 8 days. The game client will be available to download on September 16, 17:00 GMT+7 and will support multiple languages including English, Thai, Simplified Chinese, and Vietnamese. Participants will be allowed to create 5 characters during the test. Please be sure that you're device is at least Android version 4.4 and above with 2GB available memory space. There will be a data wipe once the CBT ends. A PC version of the game will be available at a later date.
Eternal Love M will be available for both Android and iOS devices. Pre-register now to get notified when the game's test phase opens. Visit their official website for more information. Don't forget to follow Enduins for more gaming news and information.