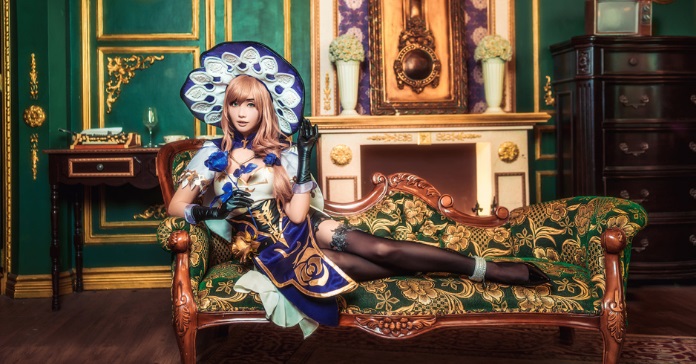 No one is safe from Genshin Impact's quest for world domination. Even the queen of Philippine cosplay herself, Alodia Gosiengfiao, has recently showcased a super awesome cosplay of Lisa, a fan favorite character in the game.
Lisa is the resident librarian and mage of the Knights of Favonius, jokingly referred to as one of those "ara-ara" characters (people of culture will know.) Although she acts carefree and doesn't seem to take her job as a librarian too seriously, there's more to her than meets the eye. Those who don't return their borrowed books on time usually end up seeing her true nature, and by all accounts, she's not someone you'd want to piss off. Just ask Paimon, she has personal experience on what happens when Lisa's temper rises to a boiling point.
Alodia's whole ensemble couldn't have been pulled off perfectly if not for the team behind it that consists of JAO, Regine Tolentino Atelier, Cosmic Bytes Cosplay Shop, STUDIO NAMU, Eye Candy Shop, and Johann Carlo Regalado. Lisa's dress, including her wizard's hat and accessories, is as accurate as they can be to the source. Photographed against a regal background and bookshelves, it perfectly captures her lore.
Genshin Impact is one of the biggest games of 2020 with over 17 million downloads ever since its September 28 launch. It also holds the record for the most successful new cross-platform RPG game with over $100 million in revenue in its first two weeks. Chinese Developer MiHoYo isn't new to finding success, having been responsible for Honkai Impact 3 which is another successful anime online RPG.  But even that couldn't hold a candle against the impact of Genshin.
While having slowed down in recent years, Alodia remains at the top of the Philippine cosplay world. She's now been cosplaying for 17 years, but has recently taken more of a mentoring role for cosplayers and other gaming stars as co-founder of Tier One Entertainment, one of the country's leading gaming and esports agencies.
What do you think of Alodia's Lisa cosplay? Could we be expecting more cosplays from Genshin? Probably so, as the characters are so well-designed with each having their own unique personality that a lot of people can relate to. They also have a well-developed background complete with engaging stories and quirks. Who's your favorite character from Genshin Impact? Let us know!