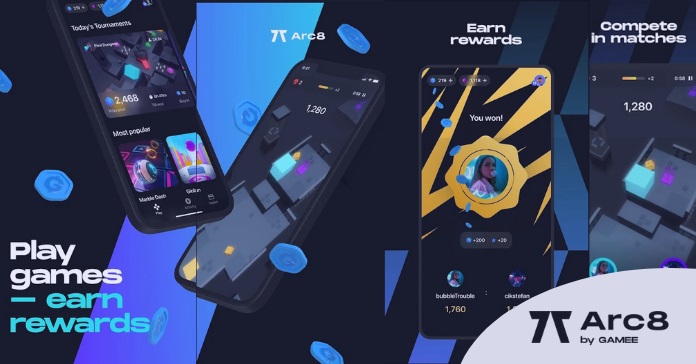 Arc8 Season 3 is coming very soon! Don't miss out and download the Arc8 app right now through this link: https://bit.ly/EnduinsArc8
The popular Play-to-Earn (P2E) gaming application Arc8 is heading towards its third season! GAMEE, the company behind the app is excited to introduce Season 3, where all games will feature a new set of possibilities to make their gaming experience more fun and rewarding with GMEE Tokens!
What Is Arc8?
Arc8 is a fast-paced mobile gaming experience that features skill-based gaming tournaments in casual games (no more than two minutes apiece). The GMEE token, which is utilized for tournament entry fees and awards, powers the experience.
Download Arc8 Here
Arc8 Is Entering Its Third Season!
Arc8 is a competitive platform that hosts seasons in which the best players fight for huge GMEE prize pools. Players can participate in tournaments throughout the season and will be ranked according to their skill level in each game. Players will be matched
against other players with similar skills. Top players will receive season rewards at the end of every season. Each season lasts for two months.
Season 3 is about to start soon with pre-season offering GMEE rewards through daily tasks and qualifications! Pre-season will last 7 days.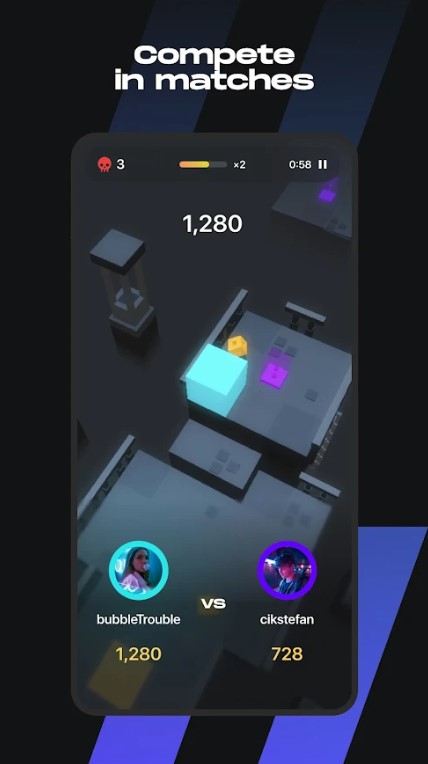 Lots of Casual But Fun and Challenging Games Are Offered!
Arc8 was developed with your entertainment as the main goal. The app offers over 12 competitive skill-based games where there's no luck involved, only the player's ability to master his craft. Players can try out games, learn how to become better at them, and proceed to beat their opponents and earn GMEE Tokens along the way! Some of their popular games include:
● Pirate Solitaire – a casual card game that plays much like your classic Solitaire game. Your goal is to fill 4 upper "foundation" stacks that take cards of the same suit in increasing order.
● 99 Blocks – the goal of 99 blocks is to complete the 3X3 squares to get points. Completing more in a row grabs you bonus tiles while completing two or more squares will get you combo multipliers. Try to get the highest score to win.
● Asteroids – A classic arcade shooter in collaboration with "Atari." Use your joystick to control your ship and destroy asteroids. Collect bonuses for additional points and power-ups. The player with the highest score after a match wins.
Teamed Up With Manchester City FC In ManCity Striker!
GAMEE recently partner with Manchester City FC to create a customized game for Arc8, the new 3D football game called "ManCity Striker." It is pretty simple to play, but don't let that fool you. Players will be challenged to strike penalty kicks which require some pretty good accuracy. Additionally, you'll need to hit targets to get higher points while beating the goalkeeper.
It's time to challenge football enthusiasts across the world and beat their scores. 3 penalty attempts, 2 targets to hit, 1 goalkeeper to beat, and endless players to challenge! "ManCity Striker" is available now in Arc8 for all players to enjoy!
Hoop Shot is Arc8's Newest Game Addition!
With season 3 getting closer, GAMEE will introduce a brand new game called "Hoop Shot!" Show off your incredible basketball skills and rack up those scores! You can check out the trailer for "Hoop Shot" down below!
How to Play Arc8 Games and Earn GMEE Tokens
Every game in Arc8 is casual, fast-paced, and competitive, all blended together into a bite-sized gaming experience. So whether you're taking a break, waiting on something, or commuting, you can play their games any time anywhere, and earn GMEE Tokens along the way.
You can earn GMEE tokens by qualifying in a game. All you need to do is play seven matches and that's it. Once that's done, you can proceed to play in Token Matches where you can challenge players, show your skills and earn real rewards.
Each game has a ranking system. Players will start with no rank. As you play more and more of that game, you accumulate points which increases your rank and will then unlock more features like higher ranking Token Matches.
When you want to practice before entering an actual match, you can use your credits to enter Practice Matches. This is a risk-free mode where you can learn the game, practice, and gain even more credits when you win. Credits can also be used as entry fees for Tournaments.
Tournaments have a prize GMEE prize pool that you can win if you come out on top. When you see an open tournament and if you're confident with your skills, we suggest jumping right into it as they are only open for a limited time.
Arc8 Becoming a Launchpad for Other Tokens
Arc8 is becoming a gamified launchpad for play-to-earn projects and other companies, both inside and beyond the crypto world, with the GMEE token at its core. With more partners into play, GMEE token main utility becomes an access provider to gaming competitions where players can win rewards in other tokens and NFTs.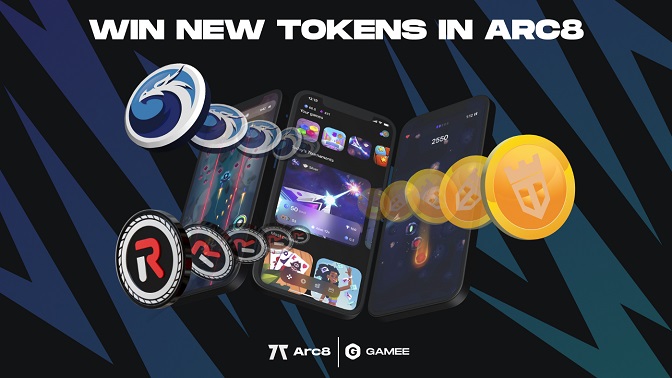 They have run successful tournaments for TOWER, QUICK, and REVV. Players were able to join with GMEE Tokens and win the partner token that is being promoted in that specific week.
Arc8 aims to put the fun in playing and make your gaming skills a true way to earn. The gaming app is available now for Android and iOS! You can download the app now by going to the Google Play Store and iOS App Store. For more information, visit their official website!