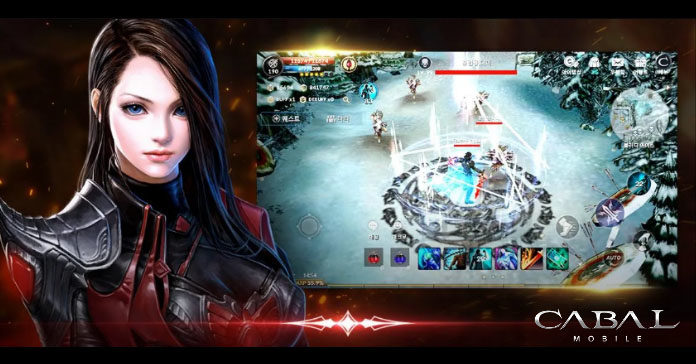 Cabal Mobile made a huge buzz in the gaming world when it was officially announced by EST Games. The CBT was short but it was enough to make a huge impact for old and new Cabal fans, leaving them with a very good first impression and positive feedbacks. Still, many players, especially those who were not able to participate in the CBT, are left with questions and inquiries about the game. Thus, we here in Enduins made a FAQ for all you, Caballeros! Read on to find answers on the most frequently asked questions for Cabal Mobile.

About Cabal Mobile:
Cabal M is the faithful mobile game adaptation of the popular PC MMORPG of the same name. Players will embark on a journey to save the world of Nevareth from evil forces that have risen after thousands of years of slumber. The game was a massive hit in Asia due to its unique features like flashy skills, fancy looking weapons, skill combo system, and many more. It uses the same "Snake" Engine the original game used, resulting in smooth and fluid graphics and animation.
Who's the publisher of Cabal Mobile?
Cabal Mobile's publisher is EST Games, a mobile game developer and publisher based in Seoul, South Korea. It was founded in 2005. They have published numerous PC and mobile games both locally and internationally including Cat Cafe, Nova Wars, Cabal Online, Cabal Online 2, and the upcoming Cabal Mobile.
What is the official website for Cabal Mobile?
What are the system requirements for Cabal Mobile?
The minimum requirements for Cabal Mobile are as follows:

Android OS version 4.4 and above
Minimum of 3GB RAM
2.8GB free internal storage
What is the current status of Cabal Mobile and its CBT?
The 5-day CBT for Cabal Mobile has already ended last March 17, 2019. There is no news yet about a second CBT coming anytime soon. EST Games is currently preparing the game for its official KR launch.
When will Cabal Mobile iOS version launch?
The developers are aiming to launch Cabal Mobile iOS at the same time as the Android version, although this might change since iOS has a more strict app policy.
Will there be an iOS CBT?
There is also no news yet about a possible CBT for iOS.
I played in the KR CBT. Will my data carry over when Cabal Mobile officially launches?
Your data and progress from the CBT version will NOT be carried over to the official launch. EST Games will do a data wipe and all players will start over from the beginning.
Will there be any changes to Cabal Mobile when it officially launches?
Yes, there will be changes. Most of it will be game improvements and additional features such as improved user interface, an improved tutorial, crash and bug fixes, and many more.
Which language will Cabal Mobile support when it launches?
The game will only support Korean when it launches locally later this year.

Will it be available to download in the Google Play Store and iOS App Store?
Yes, but it will be restricted to South Korea.
Can players outside South Korea play Cabal Mobile?
There is no information yet if there will be an IP block for players outside KR.
Is there any information about the server system for Cabal Mobile?
There is currently no information about how the servers will be set up for the mobile version. We'll update you about this as soon as we can.
Will there be a trading system in Cabal Mobile?
The developers stated that there will be a trading system that will be implemented in Cabal Mobile since this feature was highly demanded by players.
Will there be an English/Global version of Cabal Mobile?
Yes, there will be an English/Global version of Cabal Mobile.
When will the English/Global version of Cabal Mobile be available?
EST Games stated that they are planning to release an English version of Cabal Mobile later this year as well, but they didn't go any more specific than that.
Cabal Mobile is shaping up to be one of the best mobile MMORPGs. It has stealthily sneaked up on the likes of Black Desert Mobile and Ragnarok Mobile to become one of our most anticipated MMOs yet. We hope this FAQ has helped you find an answer to some of your questions about Cabal Mobile. Don't forget to follow Enduins as we will be updating this page as we get more information for Cabal mobile!