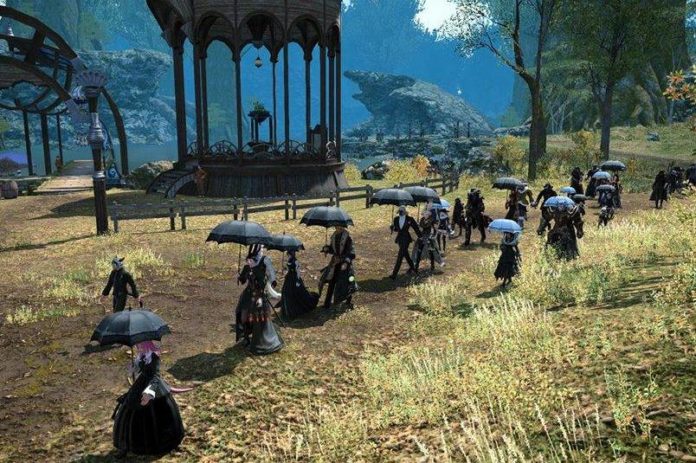 In an incredible act of unity and friendship, the players of Final Fantasy XIV held an online funeral for their friend who has succumbed to the Corona Virus.
Hundreds of players gave their tribute to the player known in-game as Ferne Le'roy. His friends from Zalera server and Coeur server where he was also known as Poppy Rose, united to give him one final sendoff.
The funeral was first announced in Reddit where Le'roy seemed to have also frequented. Almost everyone who attended the online funeral wore black. The walk started from the desert city of Ul'dah and traversing multiple regions thereafter. It ended under the guardian tree also known as Everschade, a holy site location within the woods of New Gridania. It lasted for 30 minutes as everyone in attendance paid their respect to their fallen comrade.
The Final Fantasy community, in general, praised the actions of the online members.
One person said: "The #FFXIV community never ceases to amaze me. Such a huge turnout and show of respect, community and camaraderie at this memorial service."
Some highlighted their amazement with the turnout: "My view distance couldn't handle so many people! May the fallen player rest in peace, my condolences to all involved. Be safe, everybody!"
Another person added: "This was my first time experiencing something like this. There were people attending that took up 2-3 zones of the base game which are large in general. So many showed up to give their condolences to their fellow adventurer, their friends, and families."
Final Fantasy XIV is an online MMORPG based on the long-running Final Fantasy franchise by Square Enix. The game is set in the world of Hydaelyn in the continent of Eorzea. Players can create their avatars from the 5 different races that inhabit Hydaelyn and then start their adventure from there. The game has since been revived and is now called Final Fantasy XIV: Realm Reborn.