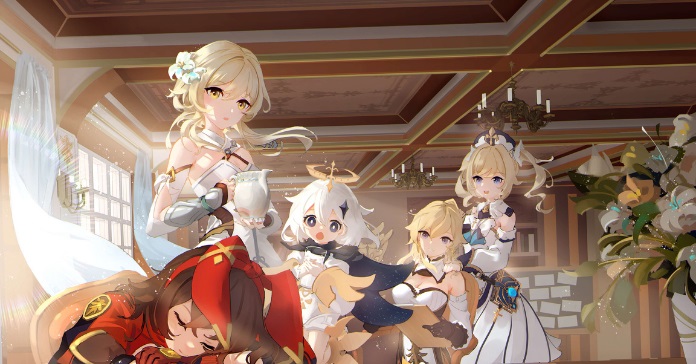 It's official. Genshin Impact is now the most successful new IP from a Chinese developer despite all the controversies its been facing since its launch on September 28. They have accumulated over $100 million in just 2 weeks, a feat we have never seen before.
No doubt the game's success can be contributed to 3 major reasons: the wide range of gaming platforms it's currently available in right now (PC, consoles, and mobile), its free-to-play setup with an almost nonexistent paywall, and of course, the overall quality of the game. And wrapping the whole thing in amazing anime aesthetics did not hurt either. I mean, seriously, have you seen the absolutely stunning views of Teyvat? It's like you want to jump into the game and explore the grassy plains of Mondstadt, and the oriental beauty of Liyue personally.
Some can argue that it's because its a gacha game that it was able to reach this much revenue, and its true. But Genshin Impact can be played without even spending a single penny. You will still have a good lineup of characters in your party, and enjoy the full content of the game. Eat your heart out, Breath of The Wild.
Shanghai-based gaming studio MiHoYo isn't new to hit since their previous titles like Honkai Impact 3 have seen huge success as well but not in this caliber. Genshin Impact is proof that if your game was made to be this good from the ground up, and that you don't pepper half of its content with microtransactions (we're looking at you Netmarble and Nexon), gamers are willing to invest and spend money on a quality game. 
Because of its success, the new updates for Genshin Impact are rapidly approaching. Here's when and what to expect when the updates arrive:
Version 1.1 update:
Expected for November 11
New event: Unreconciled Stars event
Here are other updates that are yet to be confirmed for the version 1.1 update.
Item lock feature to avoid accidental weapon fodder
Monster encyclopedia
Hotkeys for food items so you won't need to open your inventory
New items to help in searching for hidden chests and collectibles
Customized key binding controls (tentative)
Version 1.2 update:
Expected for December 23
New area: Dragonspine mountain
Another event yet to be named
Version 1.3 update:
Expected for February 2021
New event: Lantern Sea Festival in Liyue
New activities tied to the Lantern event
MiHoYo explained that these events and future upcoming events are based on the cultures of the various regions of Teyvat. You can have a rough idea of what's coming next beyond the updates mentioned above like maybe a festival to celebrate the Anemo Archon, or maybe a special year for Barbatos, maybe even a celebration of the founding of Mondstadt City, who knows. As for game updates, MiHoYo has confidently assured the community that the game's development is going great. But there's one important info the devs mentioned that players should keep in mind: new updates will be released every 6 weeks. MiHoYo aims to announce the specific schedules for upcoming updates every time one comes closer to its expected release. Even with just 2 regions available right now, the game has a ton of content to push through, which MiHoYo seems to fully understand hence the 6-week interval between events.
So for those rushing to discover everything in Teyvat, don't worry about it, take your time and enjoy the world of Genshin Impact. You're gonna miss a lot of beautiful sceneries when you do, trust us. And for those, who are already in the current cap, here's some new content to look forward to! More updates on Genshin Impact coming soon so better follow Enduins for more gaming news and information!