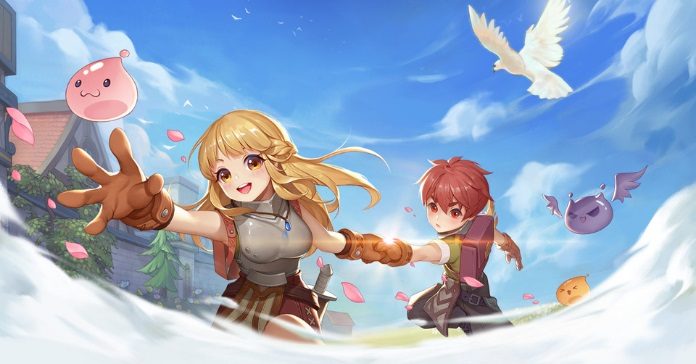 Gravity Co. has recently revealed their 2nd quarter results for 2019 which was, for a lack of a better word, a rollercoaster ride. The company has laid out its future plans and also gave updates on previously mentioned games. With the year slowly moving to the final quarter, let's take a look at what Gravity will be throwing at us before we say goodbye to 2019.
The Ragnarok Online IP has been a huge success all over the world and has seen tremendous growth since the announcement for the new Southeast Asia server, "Midnight Party" for Ragnarok M: Eternal Love, and the new 5.0 update. The pre-registration event for the new server has garnered over 1 million sign-ups which resulted in newly acquired users and daily active users in the SEA region. This was further bolstered thanks to Lisa of the Korean Kpop group Black Pink, who became the newest celebrity to endorse the game.
Ragnarok M also had a smooth and successful launch in Japan. Renamed Ragnarok Masters for the local market, the game was released in June and has since seen constant growth. Gravity plans to bolster the game more through continued brand marketing. Additionally, the company also plans to expand to the other side of the globe, with Europe as the next frontier. The game is set to release in 10 countries with a target launch around the 3rd quarter of this year. It will support multiple languages including Spanish, German, French, and many more.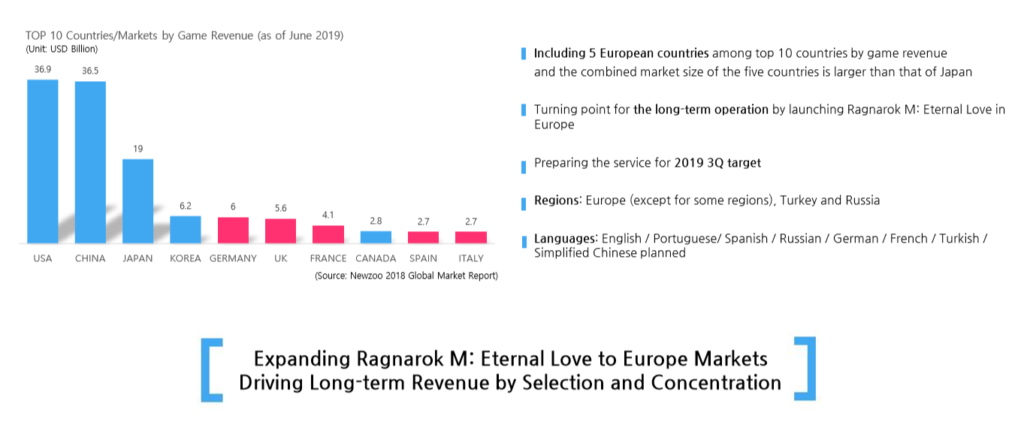 As for new content, the highly anticipated Eternal Love 6.0 update will be rolling out soon for Taiwan and Korea. Already released for China, the update features a ton of new game content including a new area, Lightharlzen, the house and rune systems, super novice job, and many more.
The highly anticipated Ragnarok M: First Love, Tencent's own take on the Ragnarok IP gets some much-needed update as well, regarding the current status of the game. Gravity has slated it for 2020 target release. Announced back in Chinajoy 2018, the game will be developed by Dream Square. It will be made fully in 3D and will incorporate new features while maintaining the original game's game mechanics, including dynamic weather changes, a full 360° view, a cuter character design, and a more modern approach to the IP. Although already slated for a 2020 release, Gravity has not mentioned which region or country the game will launch first.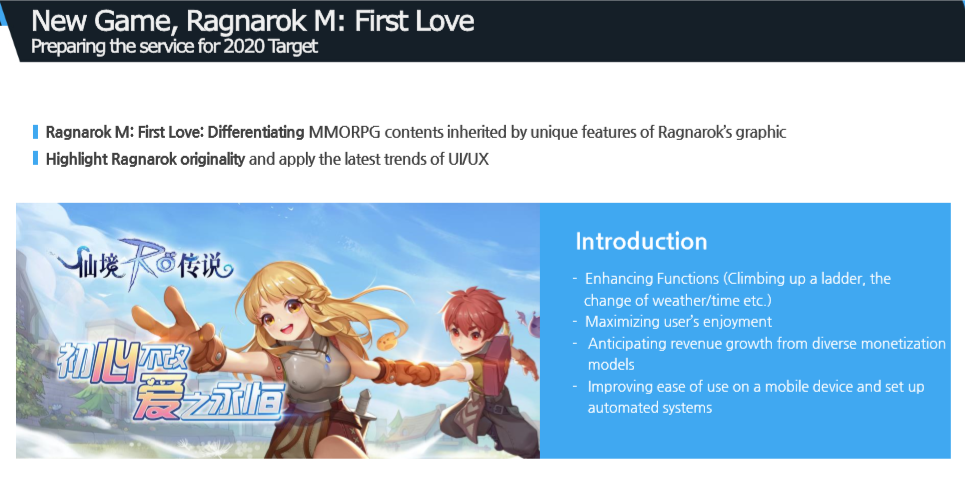 Last but certainly not least, are the games under the Ragnarok IP that RO fans will be looking forward to in the near future.
Ragnarok Web MMORPG – MMORPG for browsers. The game will have a brand new storyline. It will focus more on main and side quests and will be the main basis for leveling up. It's expected to launch for Taiwan, Hong Kong, and Macau in 2019.
Ragnarok: Another World – not much information has been revealed about Another World but it is described as a Real-Time Strategy RPG and is set to launch for both Android and iOS later this year.
Ragnarok: Spear of Odin – a dungeon crawler hack & slash mobile RPG where you can choose a class and brawl your way through multiple stages. The game focuses on collecting cards as a source of your strength. The game has since been through multiple CBT tests in the past and is expected to be ready for service this year in Taiwan, Macau, and Hong Kong for both Android and iOS.
RO Click H5 – an endless tapping idle RPG game with the classic Ragnarok Online graphics. An idle game at its core. You'll simply tap away to defeat monsters, earn zenny, and then use them to upgrade your stats to progress through the game. The game is set to launch globally in September for Android and iOS users.
RO H5 – not much has been revealed for this title only that it will be an MMORPG and that it is set to launch for South Korea later this year for the Android and iOS platforms.
And there you have it. Gravity has seen continued success the Ragnarok Franchise and it seems that there's no stopping the IP from growing even further. Ragnarok: First Love has been craved by RO fans all over the world since its gameplay trailer debuted, and it's an understatement to say that it very well may be Gravity's most anticipated game of all time. Including all the multiple game genre's the company is tackling now, there will be an RO game that will fit every gamers taste. What news got you most excited? Are you looking forward to the new RO games coming out? Let us know and don't forget to follow Enduins for more gaming news and info.