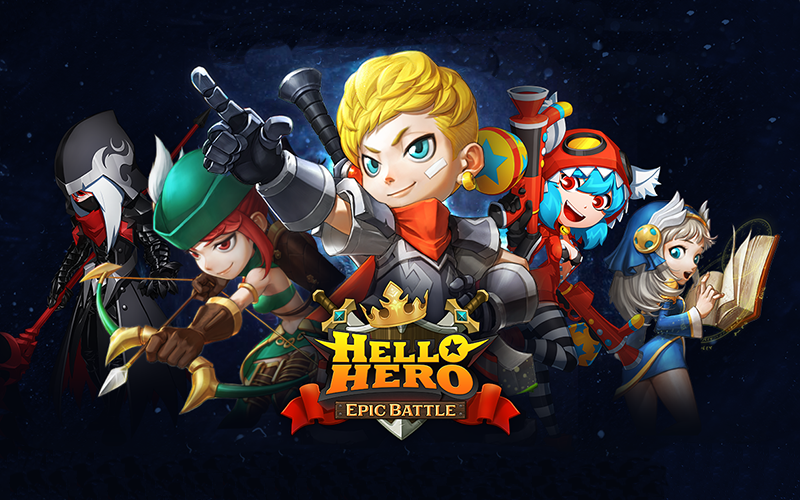 Guys, are your fingers itching already and looking for the next big mobile game? Well, your wait is over! The latest mobile RPG sensation is here – Hello Hero Epic Battle! It has already started its soft launch in the Philippines last January 15, 2018, and is set to continue the craze started by the original Hello Hero!
Hello Hero Epic Battle is the sequel to the highly-addictive mobile RPG game Hello Hero, and is set years after the battle for Armon. In this newest installment, players can choose among more than 100 Heroes, both old and new. Each character can be trained and upgraded, and you can test them against Heroes or try to eliminate World Bosses. Players will certainly enjoy a vast gameplay experience with game modes such as Expedition, Conquest, Adventure, Battlefield, and many more! Hello Hero Epic Battle is free to play, but there's also an option to purchase items and upgrades to speed up your progress.
It's available both on Android and iOS. If you want to see a clip of the gameplay, check out the country's top cosplayer Alodia Gosiengfiao's initial review
Hello guys!☺ Any new games you guys are currently playing? Checking out a new social action RPG game, Hello Hero: Epic Battle!💕

Pre-register for #HelloHero here: ✨✨ https://goo.gl/5h5X2G ✨✨
#HelloHeroEpicBattle #EpicBattle

Posted by Alodia Gosiengfiao on Wednesday, January 10, 2018
Aside from the soft launch, the game's developer, South Korean company Fincon Co., Ltd., has also started a special pre-registration promo for the game's Filipino fans. Early registrants get special rewards that can be used in-game, and Fincon is even handing out free toys, so hurry and pre-register now!
After the Philippines, Hello Hero Epic Battle is set to hold soft launches in more countries across Southeast Asia. It is going to have its official launching soon, so if you want to be the first to know the launch dates and other game updates, join Hello Hero's Facebook group (Enduins Community) and subscribe to our messenger bot.