The Honkai Impact 3 x Genshin Impact crossover version 4.9 patch is probably the most epic crossover event for MiHoYo fans as two big games from one developer made some pretty epic and fun new features for the long-running anime RPG, not to mention it made huge waves across the gaming industry seeing how big Genshin Impact currently is!
Fischl from Genshin Impact takes center stage in V4.9 patch The Outworld Traveler bringing her a brand new storyline, new Outworld Quests, and a bunch of awesome crossover events for Captains to compete in. Additionally, because Fischl is now in the game, she is officially the first BIO-Type Archer introduced in Honkai Impact! This will see technology and magic co-exist in a grouped project between the major factions Schicksal and Anti-Entropy.

What to expect in Honkai Impact V4.9 crossover?
Version 4.9 follows the story of our favorite Outworld Traveler, Fischl, as she visits the Honkai-verse fighting alongside the rest of the Honkai gang, Valkyrie style. Learn the story about Genshin Impact's lovable Chuunibyou, together with her faithful night raven companion Oz!
Is Fischl the only new character crossing over from Genshin Impact?
Prinzessin der Verurteilung isn't the only Outworld Traveler that came to Honkai. Keqing, Yuheng of the Liyue Qixing, another fan-favorite Genshin character is with her as well!
Is there any new content related to the main storyline?
A new chapter (XXV) has been added alongside the new patch with Kiana struggling to combat a new crisis befalling Anti-Entropy. Version 4.9 introduces brand new Hyperion Arsenals for Fischl and a new Stigmata as well! The Outworld Traveler patch is a blast to experience and is something to look forward to for both Honkai and Genshin fans!
Here's the full list of updated content from version 4.9 Outworld Traveler update:
New SP Character Fischl, the first-ever BIO archer in Honkai Impact
Crossover event: Outworld Quest
Story chapter XXV
Brand new Hyperion Arsenals for Fischl  [Mitternachts Waltz], [Iris of Helheim], [Cosmic Duality], [Call of Crescent].
New Stigmata Moonwatcher Set [Wang Zhengyi]
New Dressing Room addition: Celestial Hymn [Heat of Trifolium]
Game adjustments and optimization
Speaking of fans, don't forget to join Tier One's Honkai Impact 3rd x Genshin Impact Crossover Event! Grab the chance to create content and win the grand cash prize as you breathe life into your Honkai x Genshin fantasies. Dare to dream, create and win amazing prizes with your ultimate content. Stand atop your fellow Captains and Travelers as you aim to amaze your favorite content creator judges. To participate, register for the event by following this link.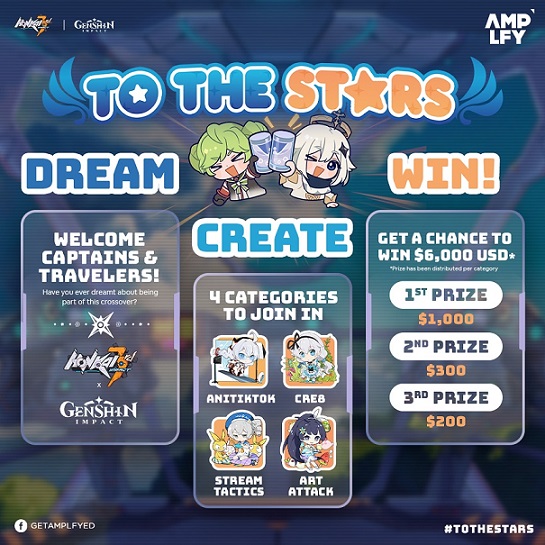 Honkai Impact 3rd x Genshin Impact is currently live for the game! Download Honkai Impact 3rd now to enjoy the brand new contents these 2 worlds have to offer! To learn more about the event and gain additional information you can visit AMPLFY's To The Stars post!