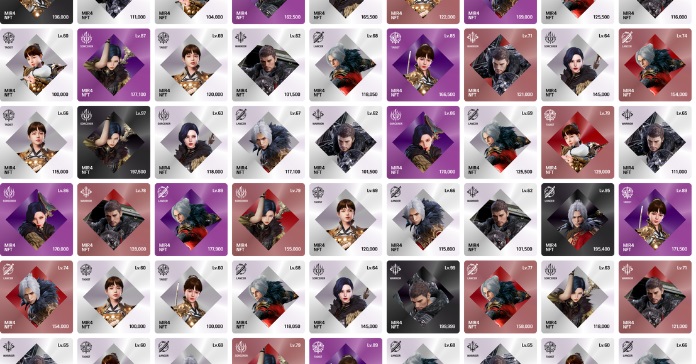 South Korean developer and publisher WeMade has officially launched their highly ambitious MMORPG, MIR4 for the PC and mobile platforms. What's surprising about this game is that it actually has Play 2 Earn mechanics using NFTs found in the game.
Dubbed as a K-fantasy MMORPG, MIR4 is heavily inspired by South Korean mythology, legends, and aesthetics. Wrap these concepts with Unreal Engine 4 and you can expect some pretty top-notch graphics and high-quality world-building. It also supports cross-platform play between Android, iOS, and PC allowing players to freely explore and play the game whatever platform they are on. Additionally, MIR4 has a unique AI system to counter bot farmers in the game. This translates into a more healthy and safe trading economy.
Game features:
Experience the elegant style of oriental martial arts combined with real-time fluid combat motions.
Every trade has its master! Tired of hunting? Try gathering or mining. All of your activities in Mir4 will ultimately reward you with character growth.
A sophisticated AI system identifies and prevents bot farmers and abnormal transactions, providing a healthy and safe trading environment for all Warriors in Mir4.
Your time and effort in Mir4 yield great rewards! Various adventures and contents in Mir4 will handsomely reward you with Blue Dragon Statues and Tokens of the Ancient Dragon! Collect these rewards to trade in for heroic items
Endless adventures to overcome my limitations, Facing the challenges of life and death alongside clanmates. Compose an epic story through countless glorious battles. At the end of your conquest, the strongest Clan will be born!
WHERE DOES THE PLAY-TO-EARN MECHANICS BEGIN IN MIR4?
Blockchain technology enables MIR4 the use of utility coins, called DRACO which can be exchanged for Darksteel which is an important resource used in MIR4 for and Non-Fungible Tokens or more commonly known as NFT. Once a player hits level 40, they can now earn DRACOs which are then saved and used in WeMade's own digital wallet service, WeMix. DRACOs can be used converted to in-game resources or be used to buy NFT items inside the game. Don't believe us? Just watch the video below.
As of this writing, DRACOs are priced around $2.00SD which has significantly decreased by 28% since MIR4's launch. The game is currently being bombarded by negative reviews on the Steam platform and mobile app stores. The majority of this negativity stems from the game's mechanics where almost every feature in the game is built as Pay To Win (P2W), that everything is automated for the player, and because of the numerous bugs and glitches players have been encountering in the game.
A few positive reviews come from the NFT side of things. Some players have commented that the only reason they are playing MIR4 right now is because of the NFTs.
Despite all the negativity, WeMade is determined to make DRACO tokens successful. They already have plans to continue offering support for DRACO Tokens in other future games. They're even bold enough to say that by September, MIR4's cryptocurrency will be the "world's first NFT of commercially successful online games". We don't know if that's even possible with their current dip in prices but we'll leave that to the experts to analyze.