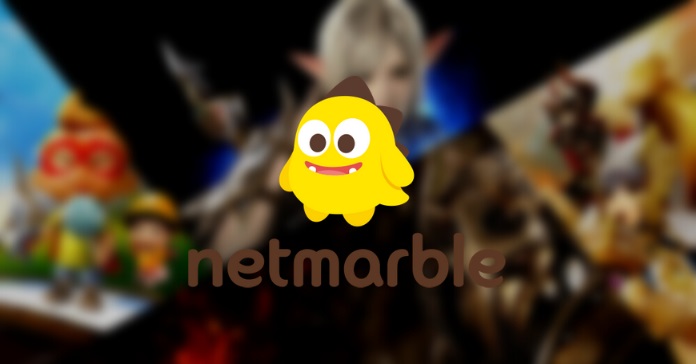 Netmarble just announced the list of new mobile game titles that will be coming out globally later this year. The list was revealed during their first quarterly annual report.
Netmarble's earnings during the first quarter decreased by 8.6% from the previous quarter due to the absence of major games, placing their revenue at 570 billion KRW (Korean Won) but increased by 7% compared to the same period of the previous year. Their overseas revenue landed around 402.3 billion KRW (357 billion USD) with North America being the most revenue followed by Korea, and then Europe.
"In the first quarter, earnings were somewhat stagnant due to the absence of new titles released, and the increase in manpower and labor costs due to an increase in salary. We will further strengthen our global game competitiveness by introducing large-scale titles such as Seven Knights Revolution."

Kwon Young-sik, Netmarble CEO
The Seven Deadly Sins: Grand Cross has proven to be the most profitable game in their lineup with 15% off the profit credited to them followed by Marvel Contest of Champions (12%), Seven Knights 2 (11%), and Lineage 2 Revolution (8%). RPG games are the biggest heavers around 34% followed by MMORPG games (30%), and finally casual games (26%).
As for games, Netmarble has announced the titles that will be coming out globally this year: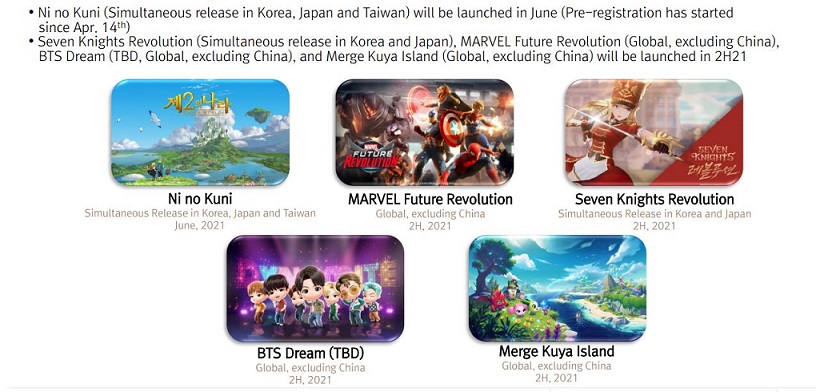 Ni No Kuni: Cross Worlds (Includes Korea, Japan, and Taiwan)
Ni No Kuni: Cross Worlds by Netmarble is an upcoming massively multiplayer online mobile game with breathtaking anime-inspired aesthetics and landscapes made with Unreal Engine 4. The main plot of the game supposedly revolves around a virtual reality game. Players will assume the role of one of many beta testers testing it out by exploring different interconnected worlds. Little do you know, the world that you have been running around is real. There will be PvE and PvE modes with 5 classes to choose from which includes swordsman, rogue, witch, engineer, and destroyer.
---
Marvel Future Revolution (Global, excluding China)
Considered to be the sequel to Marvel Future Fight, Future Revolution will be a mobile MMORPG featuring your favorite Marvel superheroes, supervillains, and their multiverse counterparts. The game actually revolves around this theme where the multiverse is under threat and players will choose to become their favorite Marvel superhero or supervillain and try to save their respective worlds and more.
---
Seven Knights Revolution (Simultaneous release including Korea and Japan)
Set in an alternate world, the 7 knights, heroes who once saved the world from evil have disappeared. Because of this, evil has once again risen. It's up to you, the player to lead the chivalric order against this new enemy in a world that needs a new hero to rise up. There's a bunch of weapons to master in the game that you can freely swap any time, huge amounts of cards to collect that will not only give you buffs but will also let you transform into one of the Knights and use their skills in battle. Unlike Seven Knights 2, SK Revolution will inherit the original game's anime-ish aesthetics.
---
BTS Dream (TBD)
Tentatively named BTS Dream, the game will be developed by Netmarble NEO, the company's in-house game development studio known for their hit mobile MMORPG, Lineage 2 Revolution. Information about BTS Dream's gameplay is a bit vague but it will a hybrid between rhythm mechanics and a housing system where you can decorate your own house for the BTS band.
---
Merge Kuya Island (Global, excluding China)
Not much info has been revealed about this game but it's quite obvious that this will be Netmarble's entry into the ever-growing popularity of the Merge style of casual games. More info about Merge Kuya Island coming soon.
Netmarble had a slow start this year but with all these upcoming games that games are most anxious to play, they will definitely pick it back up again. Which games are you looking forward to playing the most? Let us know! And don't forget to follow Enduins for more gaming news and information!