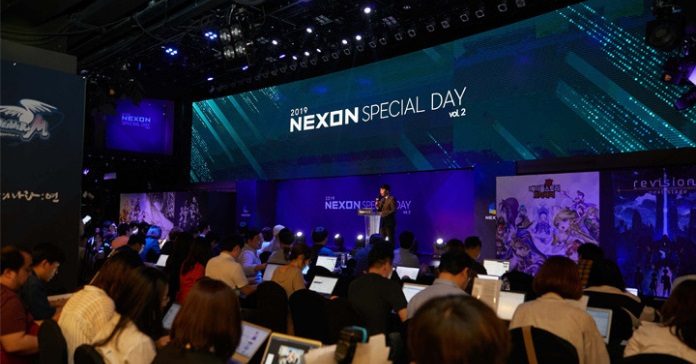 Nexon has recently unveiled new game lineups and updates for 2019 onwards through the Nexon Special Day event held at Nexon Arena, South Korea. Nexon is currently working on various genres of games to add to Nexon's competitiveness in the gaming market, whether it is PC or mobile. Here is what they have in store for us:

Talesweaver M
Tales Weaver has been in service for more than 16 years, and now it will have a mobile adaptation. The mobile version will follow the original game's storyline starting with episodes 1 and 2 and will allow players to use all eight characters in the initial episode. Each character has around 15 to 20 skills, with different weapons and combat types.
All the game's visual and graphics will be rebuilt but will still be based on the original game's assets. Talesweaver's familiar BGM will also make a comeback. The game modes such as Fight Club, Silver Skull, and Test Tower has been reinterpreted to fit the mobile version and game elements such as Story Dungeon, Runes System, Semi Reed will also be present. The game is expected to get a CBT phase in South Korea soon.
---
The Kingdom of The Winds: Yeon
Based on the classic PC MMORPG, the mobile version was developed using the original version's resources and contents while adding unique mobile version-only contents. The Kingdom of the Winds: Yeon will have its graphics remastered, the game world and environment reinterpreted, and it will get a new communication function and coop party play. The game is slated for a CBT period in South Korea on August 21.
---
Counterside
Currently one of the most anticipated mobile games right now, Counterside is being developed as a "Strategy Action Urban Fantasy". Announced back in July 2018, the game is a 2D, character collecting-type RPG that depicts the confrontation between the protagonist's world dubbed as the "Normal side" and the "Counter side" which seeks to invade other worlds. The gameplay will focus on mixing and matching military tactics and abilities.
Counterside will be a collectible RPG, and almost all of its content can be acquired through the game. This means it won't be heavy on the cash shop. Players will assume the role of the CEO of the Counterside's organization and must perform management activities such as "salary negotiation" or dispatching a crew to a mission. There are a total of 100 characters to collect. The game is slated for a CBT phase sometime in the third quarter of 2019.
---
Maplestory Odyssey
A new mobile game spinoff based on the Maplestory IP, is being developed by Nexon, but not much information has been revealed about the game. The screenshot of the gameplay, however, points to a 3D environment with an isometric view instead of the original side-scrolling mechanics. Nexon also mentioned that the original characters and NPCs found in the world of Maplestory will appear in this new game.
---
Kurtzpel
Kurtzpel is an action RPG developed by KOG Games for the PC platform. It has been praised for its balanced PvE and PvE gameplay. Kurtzpel lets you assume the role of a member of a secret organization that is trying to prevent chaos from engulfing the world dubbed as the War of Cleansing. The game is already out in English and can be download through Steam. Meanwhile, the Korean domestic launch is slated to start in the first half of 2020.

---
Revisions: Next Stage
The game is based on the anime called Revisions were the main plot revolves around high school students piloting giant mechs and using them to fight invading aliens who seek to conquer the world. Not much information has been revealed about the game, only that it will be released for Japan sometime in 2019.
---
Ark Persona
Another game that will be released for Japan, Ark Persona is currently in pre-registration and has currently surpassed 70,000 signups. Ark Persona is a puzzle RPG game combat that focuses on the player connecting different sets of stones in a match three style of gameplay. There's no info if it will be released for the global market.
Nexon is gearing up for another wave of games in an effort to cover all its bases. Question is, which of these are you looking forward to the most? Let us know, and don't forget to follow Enduins for more gaming news and information!