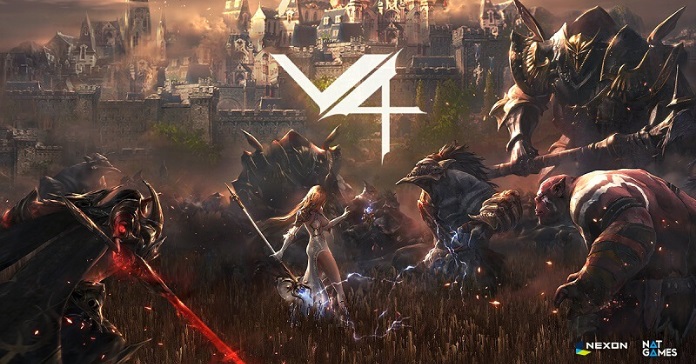 If you needed a good excuse to upgrade your smartphone, now is that time as Nexon is now preparing to launch its latest flagship open-world mobile MMORPG, Project V4 to the global market.
If you still remember, Project V4 was announced and teased by Nexon back in G-Star 2018. The game is developed by NAT Games, the same devs behind Heroes of Incredible Tales (HIT) and OVERHIT, both of which became massively popular. What's the meaning of V4. Well, it stands for "Victory For" where the latter word is meant to be for you, the player, and the goals waiting for you to be accomplished in the game. Made with Unreal Engine 4, players will assume the role of a Devil Hunter and will choose between 6 available classes:
The knight who uses a sword and shield
The magician that excels in dishing out magical damage
Blader who are nimble and prefer to use swords and daggers
Warlord that wields a giant hammer
Axler who is adept at both long and short-ranged attacks using an axe and guns
The gunslinger who is master marksman that are able to use guns and rifles
Other features include 5 camera modes for different viewing, trade system, life content, party system, guilds, and a unique system the devs call an Inter-Server, a key feature in V4 where players from different servers can engage in different PVE and PVP modes. By now, you're probably thinking this game is PVP oriented and yes it is. PVP happens naturally out on the field, especially in resource areas. So better strap up and get ready to die a lot in the game.
With all these heavy features, comes the heavy requirement. V4 is developed using Unreal Engine 4, and the game itself is quite large with many systems. Hence, it is not a low-spec mobile game. The device required for the game is at least a Samsung Galaxy S7 or Apple iPhone 7. This is the requirement for seamless gameplay, though phones with lower specs can still play the game at a lower graphical setting.
Pre-registration for V4 will start on June 25, 2020. There's no official release date for the game just yet but you can already visit their official Facebook Page as well as their Teaser Website for more information. We'll follow through on V4 be sure to follow Enduins that you can be notified of any updates and announcements.