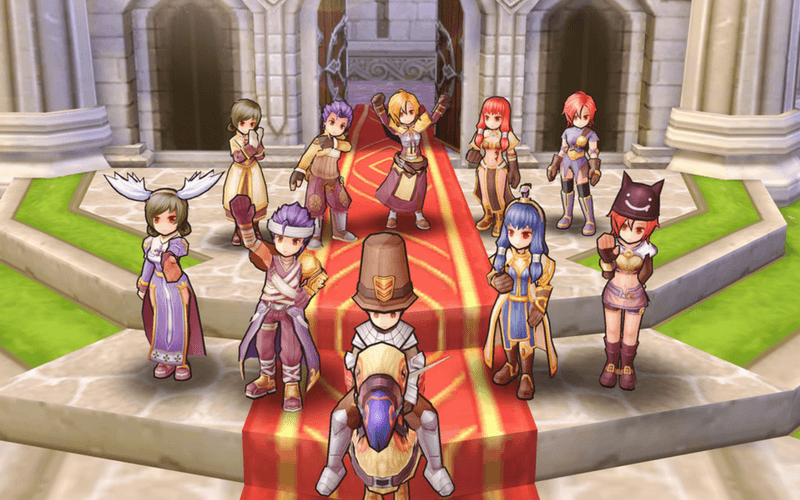 While everybody is going bonkers over the wave of new mobile games such as Lineage 2, Aura Kingdom, and Dragon Nest Mobile, one major title has been stuck in teaser-mode for the past couple of years already – the English version of Ragnarok Mobile: Eternal Guardians of Love. And just like everyone else, we here at Enduins have been aching for any update regarding this legendary game. When is the launch date? Will it be available to all platforms on launch? what's taking it so long? We are in the dark as much as you guys, sadly.

That, however, doesn't mean we can give you snippets on your beloved game while we all wait for its release, and we will even give you the steps on how to download the current Chinese version, so stick around and check out the latest Ragnarok Mobile news and updates below!
About Ragnarok Mobile
First, a little refresher about the game itself. Ragnarok Mobile: Eternal Guardians of Love is the upcoming free-to-play 3D mobile MMORPG published by XingDong Limited, developed by Dream Square, and franchised by Gravity. As the name suggests, it is based heavily on the classic game, Ragnarok Online. The game features a mobile adaptation faithful to the original and doesn't cut corners on content, unlike previous iterations such as Ragnarok 2 and Ragnarok: Path of Heroes.
[Read: Low to Ultra Settings: Best Phones for Gaming in 2018]

Ragnarok Mobile features a wide variety of job classes from the original game, including branching jobs and a brand new Blacksmith class. Of course, the gameplay itself has been updated to match modern gaming trends. You will now be able to fight other players in Guild PvP, taking full advantage of the game's real-time combat. Players can even collect cosmetic apparel such as animal ears and maid outfits to make your character stand out in a crowd. All of these occurs in a fantastic 3D world that still manages to retain the ambience of the PC version.

Catch a glimpse of the new Ragnarok mobile with this trailer:
Release Timeline
Ragnarok Mobile started its campaign as early as late 2016, and we here at Enduins immediately informed everybody about it. By January 2017, the publishers released the first closed beta version of the game, although it was all in Chinese. The open beta for the Chinese version soon followed on March 2017. As for the English version? Well, there weren't any news yet up to that point.

It wasn't until August 2017 that a piece of information for that much-anticipated English version came out. Gravity announced that it was going to sign a contract with the developer and publisher to bring the game to the global market. According to Gravity, Ragnarok Mobile will be first released in Taiwan and Hong Kong within this year, followed by Korea and Southeast Asia. That means the game will be available in multiple languages including English.

In October 2017, as Gravity promised, they released the game in Taiwan, Hongkong, and Macau. And just last March 2018, Gravity released Ragnarok Mobile in South Korea.
To summarize, here is the breakdown of Ragnarok Mobile's release dates so far:
»CN Global Pre-OBT: January 2017
»CN Global OBT: March 2017
»Taiwan, Hong Kong, Macau: October 2017
»South Korea: March 2018
»Southeast Asia (English): TBA

As for the English version and Southeast Asia release, Gravity has yet to formally announce an exact date. But looking at the timelines above, a Southeast Asia release is looking pretty darn imminent! If we're lucky, we are looking at just a couple more weeks before the release of this much-awaited game!

But alas, there are those of us who cannot wait that long, and as we mentioned, you can download the current Chinese version right now. There is even a third-party English language patch that you can use on the Chinese version, made by fans of the game. But this being not an official patch, there can be some unforeseen risk. Nevertheless, if you're one of the brave ones, here are the links!
How to Download
»Download and install the Ragnarok Mobile through the TapTap app, a China app store (https://www.taptap.com/mobile)
»Download the patch here: (https://www.roguard.net/english-patch/)

So that's it, folks! Patience really is a virtue, and from what we've seen with the Chinese version, the English version of Ragnarok Mobile seems to be worth the (long) wait. To be the first to know anything and everything about Ragnarok Mobile as well as all the other hot games, don't forget to like and follow our Enduins pages.
Enduins Games Facebook Page: https://www.facebook.com/enduinsgames/
Enduins Facebook Page: https://www.facebook.com/enduins/