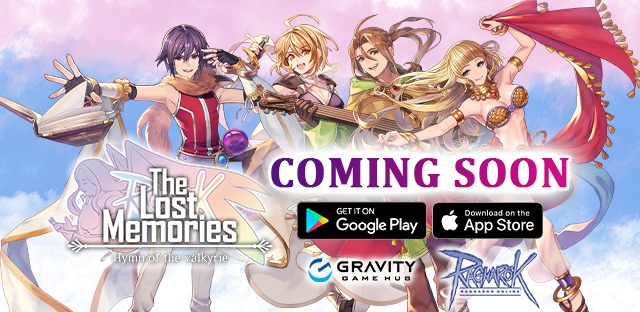 One of the promised Ragnarok Online spinoff games to be released before 2021 ends, Ragnarok: The Lost Memories Hymn of The Valkyrie finally opens its pre-registration phase for Southeast Asia. The game is described as a "Newtro cinematic retro mobile RPG" with the word Newtro meaning enjoying new and old trends as one.
In RO: The Lost Memories, players will experience a full-blown story set in Ragnarok's Midgard. The gameplay is described as watching a movie while playing the game shot by shot. There are over 20 different characters to meet in the game, each one has a unique class, skills, and strategies to be utilized during combat. More importantly, they all have a story to tell which you, the player, will attempt to unfold.
Game features:
A new chapter in Ragnarok's spin-off story.
More than 20 characters from Ragnarok.
Strategize a team with members of up to 4 characters.
Character skill battle system and skill card.
Open Field and more than 200 types of dungeons.
Updated UI/UX, enhanced with sharper and more beautiful effects.
As a celebration of the upcoming game, a pre-registration event has been launched. If players can reach certain milestones, they'll have a chance of winning the following prizes:
50K players – 10 old blue boxes
100K players – 20 Razer Gold gift cards, 100K Zeny, and 30 EXP Potions (small)
150K players – 1 iPad, 100 gemstones, 3 old yellow boxes
200K players – Xiaomi Redmi Note 9s, 5 gacha tickets, and 3 Dokebi gacha tickets
250K players – 2 AirPods, 500 gemstones (x50)
300K players – 2 iPhone 13 Pro Max, 2 Oppo Reno5 Z, 1 bunny band, and 3 old red boxes
Ragnarok: The Lost Memories is set to launch in Southeast Asia which includes, Malaysia, Singapore, and The Philippines. No official release date has been announced just yet but you can pre-register now through their official website.