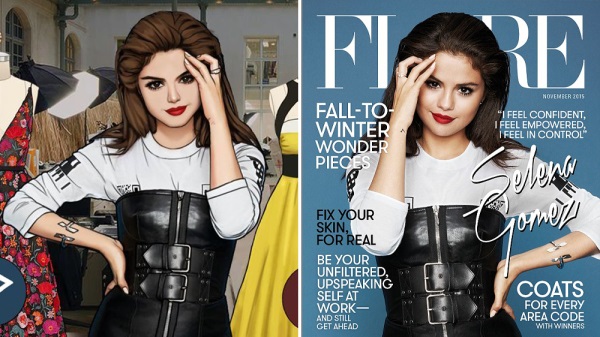 Selena Gomez is suing the makers of a mobile game called Clothes Forever – Styling Game for up to $10 million dollars, claiming that they blatantly stole her image and likeness without her consent.
Clothes Forever – Styling Game is developed by a Chinese company called Guangzhou Feidong Software Technology Co. and is being published by the Britain-based MutantBox Interactive Limited. The game is currently in Apple's iOS App Store which sees users become a virtual stylist for models and celebrities, most of them seem to be blatantly stolen images of high profile celebrities, not just Selena Gomez, but also Kylie Jenner, David Beckham, and Taylor Swift among others. The app description says "interact with the most beautiful models and celebrities; the likes of Kardashian, Gigi, Beyoncé, Taylor, and more will be dropping by and asking for YOUR fashion advise!" We cannot confirm if the other celebrities agreed to this app, but obviously, Selena did not and isn't happy about it.
Her lawsuit states that Clothes Forever features an image that "blatantly rips off a popular image of Gomez" that appeared on the cover of Flare Magazine, and that it "creates the false impression that she has endorsed the Game or has something to do with the Game, and undoubtedly is intended to attract consumers to make use of the Game." Additional statement goes that "defendants never requested, consulted, or informed Gomez regarding the use of any of her publicity rights in connection with the game nor if asked, would Gomez have consented to such use for the Game, which apparently relies on the unsavory practice of luring its users to make in-game purchases in amounts as much as US$99.99 to fund imaginary spending in the Game and unlock features."
"Selena Gomez's career as a model, actress, musician, and entrepreneur has made Selena a household name. Selena Gomez is a style icon. This is an egregious violation of Selena's rights, which we will litigate vigorously to vindicate."
Attorney Alex Weingarten, Selena's attorney
Gomez argues that the Guanzhou "knowingly" used her image and likeness without any consent the lawsuit is aimed for the "income, profits, and other benefits" the company made by using her images. This includes the money they garnered by using Selena's popularity and the false impression that they secured her approval for endorsement which violates her rights of publicity. Her lawsuit will hang on the claim that she owns all rights to the use of her name, likeness, and identifying characteristics for commercial use.