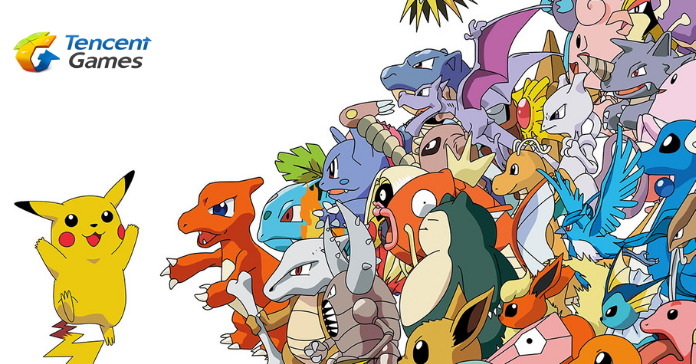 Tencent Games has developed and published a lot of the most popular games right now like PUBG Mobile, AOV, and Call of Duty Mobile. It even has a few PC titles under its banner. With all its success, it's easy for it to take it slow for the meantime. But that is certainly not the case, as they are just about to shock again the gaming industry with partnering with the creators of one of the most legendary titles in gaming history – Pokemon!
That's right, Tencent has partnered up with none other than the Pokémon Company! The two will be working together along with TiMi Studios, Tencent's own gaming development team, to make a new game under the Pokémon IP. It's not clear for which platform it is going to be for (probably for mobile?) but a new job posting from Tencent suggests the game will be for the global market right off the bat since both the California branch and China branch of TiMi Studios will be developing the game at the same time.
Tencent recently landed a deal with Nintendo, which is the current part-owner of The Pokémon Company. Their goal is to bring the Nintendo Switch to China, which is part of Nintendo's plans to break into the huge gaming territory which is mostly dominated by mobile gamers.
"While Tencent has focused mostly on China in the past, we are now looking at the gaming sector with a much more global perspective. This will make the company pay better attention to IP protection."

Vincent Gao, TiMi executive
Tencent could prove to be a very valuable ally for Nintendo and the Pokémon Company indeed, since the Chinese gaming market has been peppered with copycats of Nintendo's games and worse, the blatant use of their intellectual properties, particularly Pokémon. If Tencent makes an officially licensed game, the Chinese gamers will surely flock to it since it is being made by the biggest and most trusted game developer in China, and hopefully finally put a stop to copycats and IP thieves.
Tencent and Nintendo have hinted that more info about their game will surface soon so, for now, we'll just wait and see what they have in store for us. What do you think about this exciting collaboration? Let us know, and as always, don't forget to follow Enduins for more gaming news and information!