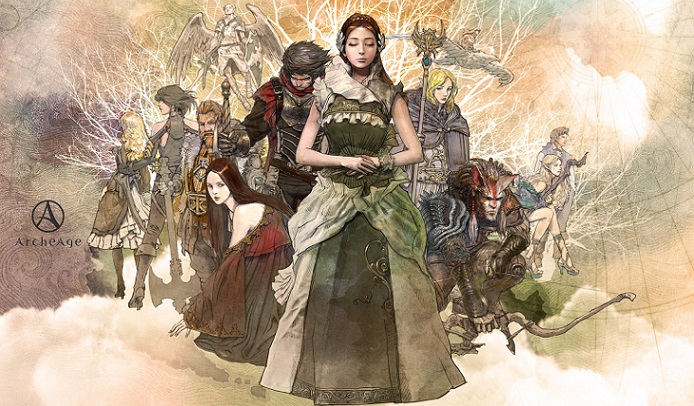 Dubbed by many as the spiritual successor to Lineage 2, the epic MMORPG ArchAge will finally be coming to Southeast Asia thanks to XL Games, the same publishers for Legendary Moonlight Sculptor and Civilization Online.
The game is developed by Korean developer Jake Song, who is the former developer of the world famous MMO, Lineage. ArcheAge is described as a "sandpark" MMORPG, which the developers say is a hybrid of the open content style of a "sandbox" game and the more structured play experience of a "theme park" game. The plot of the game is based on The ArcheAge Chronicles, by the Korean author Jeon Min-hee. The plot outlines the struggle between the forces of good vs evil and heroes who set out to change the future in their favor.
The game at its core is a mix of sandbox MMO and fantasy RPG. You're free to choose your own path and play your way from the starting continents of Haranya and Nuia to the lost shores of Auroria, the birthplace of magic. There are multiple races to choose from including Humans, Elves, Dwarves, Firran, Harani, and Warborn with over 165 unique Class combinations. Master over 20 crafting skills, build houses and manors on your own plot of land in the open world, farm crops, trade goods with other players, forge alliances, and lay waste to all who stand in your way. Or you can always turn your back on it all and live as a pirate, ransacking traders and pillaging the high seas for plunder and gold. Be warned though, choosing the life of a bad guy makes you a wanted person, which, you guessed it, makes players go after you for bounty!
Since the sandbox element is a major mechanic in the game, there are TONS of features you can try out and multiple paths to choose from. Build massive castles and lay claim to lands whose riches fuel a deep, player-driven economy, assemble allies and build an empire to span continents, sail the vast uncharted ocean and amass fame and fortune by securing trade routes and controlling the flow of enemies' resources, and even create your own powerful nation!
ArcheAge SEA's info is pretty scarce right now. If the model will be free 2 play or buy 2 play is yet to be determined. According to their social media page, more info will be coming soon to make light of everything, so better stay tuned to Enduins for more upcoming Archeage SEA update and othe juicy gaming news and information.