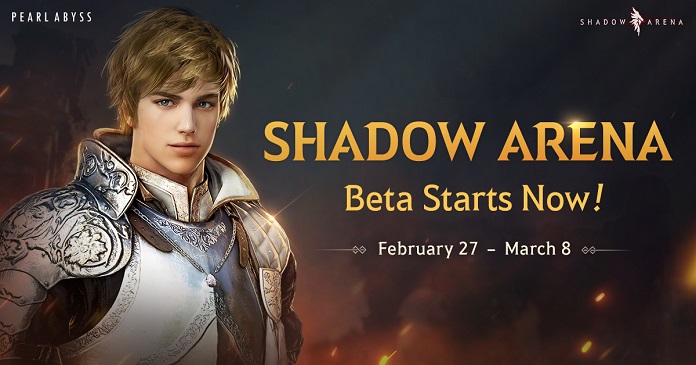 Pearl Abyss announces that its upcoming title, Shadow Arena, is now available for a global beta test. Available on Steam!
Shadow Arena is an action battle royale that pits 40 players against each other in a ruthless fight to become the sole survivor. Players can choose from nine Heroes, each with their own unique fighting styles. While battling fiercely against opponents, players must also slay monsters to collect loot in order to upgrade their gear and gain buffs to become the winner. After successful Beta tests in Korea and Russia, Shadow Arena now features a number of new systems and content to offer an improved gameplay experience.
Badal the Golden is the latest Hero to join the roster. He offers a new combat style that players can enjoy. A fierce melee fighter with the ability to throw lightning-fast combos at his opponents. This new Hero is highly recommended for those looking to defeat their opponents with stylish, bare-fist combat and powerful combos.

In addition, the global beta offers "Team Mode" where players can team up in pairs and combine their skills to gain a tactical edge in combat. Moreover, "Practice Mode" allows players to learn the basics of the game and test out new tactics before unleashing them on the battlefield. "Private Matches" can also be hosted with select groups of people for a customized gaming experience.
Tier-specific matchmaking has also been introduced in this beta, which is a purely skills-based system that advances players to higher tiers based on their performance. Item sealing is also available, allowing players who obtain items from a previous match to seal one kind of item and bring it into the next match. Defeating monsters can also grant players special buffs that can be activated at the Ancient Altar to give them a further advantage on the battlefield.
Throughout the beta test period, Shadow Arena will offer a unique "Action Battle Royale" experience that draws from the MOBA, Battle Royale, and MMO genres. Players can take this opportunity to explore a range of distinctive skills and abundant features that the game is offering during the beta period. Shadow Arena will be released on PC during the first half of 2020 and is expected to launch for consoles at a later date.
Shadow Arena's beta test will run until March 8 with support in 14 languages including English, Thai, Indonesian, Traditional Chinese, Simplified Chinese, and Turkish. Check the beta test schedule in your region below.
Beta test schedule:
Asia Server: 14:00 – 23:59 (KST)
North America Server: 13:00 – 22:59 (PST), 16:00 – 01:59 (EST)
Europe Server: 14:00 – 23:59 (CET)
Russia Server: 14:00 – 23:59 (MSK)
Pearl Abyss has broken out of its shell and has gone far beyond what we've expected from a game developer who only had a single game under their belt before. Shadow Arena is action-packed, full of tense and exhilarating moments perfectly wrapped in gorgeous top-notch graphics. If you're a fan of Black Desert or of Battle Royale games in general, download the game now! Visit their official website for more info, and don't forget to follow Enduins for more gaming news and information.