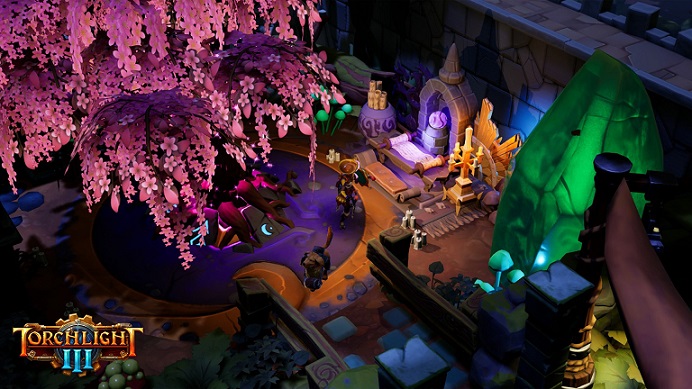 Perfect World Entertainment and developer Echtra Games have announced that Torchlight III, the highly anticipated successor to the beloved Torchlight franchise, has entered Steam Early Access on PC. For the Early Access price of $28.00 USD, you can now experience this fast-paced and light-hearted dungeon crawler that lets adventurers jump back into the Torchlight universe.
Set in the same universe from Torchlight I & II, Torchlight III features four classes: Dusk Mage, the Forged, the Rail Master, and the Sharp Shooter. All of the franchise's signature gameplay mechanics, including hack and slash combat, epic loot drops and a unique pet system. The return of the iconic franchise also introduces new features, including fully customizable forts that allow adventurers to leave their personal mark on the world. Over the course of the game, additional features, game content, including a new act, and quality-of-life improvements will also be added via periodic updates.
It's been a century since the events of Torchlight II, and the Ember Empire is in decline. Novastraia is again under threat of invasion against the Netherim and its allies. To defeat the Netherim threat, adventurers must choose to party up with three fellow adventurers via online cooperative multiplayer or venture alone to fight their way to find fame, glory and new adventures through a vibrant world filled with hordes of dangerous creatures waiting at every turn.
"Torchlight III entering Steam Early Access marks the exciting return of the Torchlight franchise that ARPG fans know and love. Player feedback is incredibly important to us, and we look forward to working with the community as we continue to expand Torchlight III to make it the best Torchlight title yet!"

Max Schaefer, CEO of Echtra Games and co-founder of the Torchlight franchise
Torchlight III Early Access game features include:
Travel the Frontier – explore the wilderness, party with friends, gather materials to craft loot, or show off their spoils in town!
Build & Upgrade Your Fort – Players will enjoy their very own account-based fort, where they can upgrade gear, and make renovations to show it off to their friends and the world.
Choose a Relic – Relics are objects of great power that grant players a suite of active skills and passive skills. Players can craft them, level them up and store them in their fort.
Collect Epic Gear – Whether it's armor, weapons, recipes, ember cores, or even new pets, there's always more to find as adventurers battle through dungeons and take on dangerous foes.
Pets are Back: Players can fight their way to fame and glory with loyal companions! Each of the many species comes in a myriad of colors and styles so adventurers shouldn't settle for the first one they find.
Build Your Hero: With four classes to choose from, players can utilize class-specific mechanics to maximize damage and their odds of survival.
This fast-paced dungeon crawler brings fans back to the beloved Torchlight universe to hack and slash their way through a brand new world filled with hordes of goblins, undead and other dangerous Netherim creatures! To learn more about Torchlight III, please visit the game's official website. Novastraia needs you, adventurer! Play Torchlight III now!