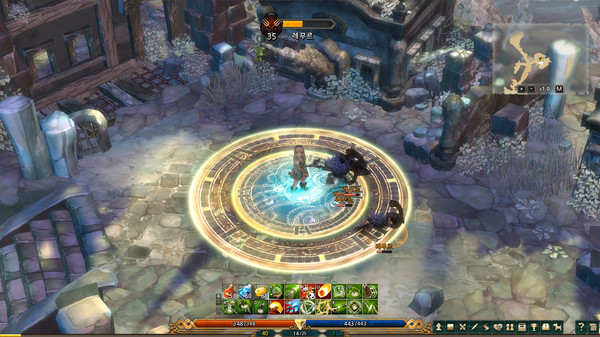 Miss playing Tree of Savior? Now is the perfect time to come back to the game as IMC Games has recently announced that a brand new growth support server will be launching soon!
To recap the game, Tree of Savior or TOS is a PC MMORPG developed by Kim Hakkyu, creator of Ragnarok Online. TOS is based on traditional Lithuanian culture and mythology. Dubbed as the spiritual successor to RO Online, the game has a variety of PvE and PvP elements including the Team Battle League, Gemstone Feuds, Guild and Territory Wars, Uphill Defense Mission, and Challenge Mode. It also boasts one of the most diverse sets of classes in an MMORPG game with over 80 job branches to choose from. It has inherited RO Online's isometric world view and its rich visuals and aesthetics.
The event will run from the scheduled maintenance on January 28, 2020, to the scheduled maintenance on February 11, 2020. New bonus perks and benefits will be available exclusively for the new server once it opens its service to the public. The Episode 12 update: The Last Revelation will also be implemented around this time, bringing new playable classes to the game. The purpose of the New Servers is to support the rapid growth of the new players. These new servers will eventually merge with the original servers on May 12, 2020.
How to Pre-Register for the new server:
STEP 1 – Log-in to the New Server and create a new team.
STEP 2 – Wait until the New Servers are open. All players who register during the Pre-Registration period will receive special rewards during the scheduled maintenance on February 18, 2020.
Special Rewards for Pre-Registered players:
Lv.400 Legend Growth Weapon Selection Box x1
Growth Weapon Stage 5 Transcendence Voucher x1
Growth Weapon +11 Enhancement Voucher x1
Medeina Emoticon: Flustered and Joy
Character Slot Voucher x1
x8 EXP Tome x3
Enchant Scroll x10
Silver Ichor Extraction Kit x10
Miracle Seeds x 30
Goddess Sculpture x30
Token: 7 Days x1
Important information:
Team Name – Unique one per account per region
Team Name Change Price – 5 TP during Pre-Registration Period / 150 TP for Service Period
Account Limitation – 1 account per region
Players should also take note that you cannot transfer your existing account to the new server nor can you use the same words you have already used for your previous team name. You'll need to come up with a new one. Additionally, anyone can a character for the new server right now but you'll have to wait until February 11 to access the game.
Once again as a very important reminder, these new growth support servers are meant for new players, and these servers will eventually merge with the original servers on May 12, 2020.
If you've always been interested in TOS, or need an excuse to play the game again, now is a great time to do so. The city of Klaipeda awaits you, adventurer! Check out this link for more information about the new servers and the upcoming server merge. Don't forget to pre-register to receive those awesome goodies when the new server launches!