[Ragnarok X: Next Generation Wiki] Odin's Blessing is one of the most crucial features in the game in terms of leveling faster and farming. It multiplies the Base EXP, Job EXP, and Zeny you acquire when defeating enemies by 5. So if let's say you get 10 EXP from a kill, when the blessing is active, you get 50 instead.
[READ] Ragnarok X: Next Generation –The Beginner's Complete Guide To RoX
How to get more Odin's Blessing
Hanging out in Prontera – Staying in Prontera and just chilling between 1:00 PM to 9:00 PM will slowly give you Odin's Blessing. For every 30 seconds you hang out, you'll get 10 Odin's Blessing. A total of 600 blessings can be farmed this way.

Mission Boards – the daily mission boards are your best source for Odin's Blessing. Each mission you complete will grant you 140 Odin's Blessing. You can obtain up to 1400 blessings in total if you complete all daily missions. Mission boards refresh daily so this automatically becomes one of your daily grinds.
Using Odin's Blessing
Odin's Blessing is always turned off by default. To activate it, simply tap on the Odin icon located at the top of your screen. When activated you'll get the following buffs:
5x Base job experience
5x Job class experience
5x Drop rate increase
5x Zeny drop increase
Stamina gain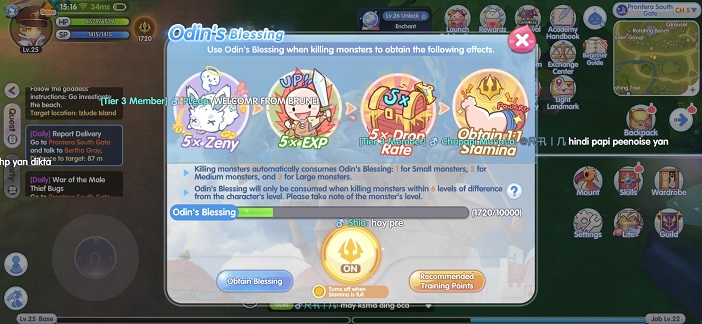 Monster types affect how Odin's blessing is spent. It's not that complicated. If you're killing a small monster, you'll spend 1 blessing point, if it's a medium-sized one, 2 points, and large monsters will consume 3 blessing points.
Do take note that in order to gain more stamina in-game, you actually need to use Odin's Blessing. So if you keep delaying using the blessing, you won't gain any stamina in the process as well as making you lose a lot of momentum in-game. So remember to always spend Odin's Blessing when you can as this is such a huge source of EXP and Stamina.
Odin's Blessing will note be consumed if the monster you are trying to eliminate is 6 levels above or below you. If you're level around level 10, you need to target monsters that are below 6 levels to you (level 4) or 6 levels above (level 16) in order for the blessing to activate.
That's about it for Odin's Blessing guide. We hope that this will help you better understand this feature and help you level up faster, and become stronger in Ragnarok X New Generation.
[More Guides]