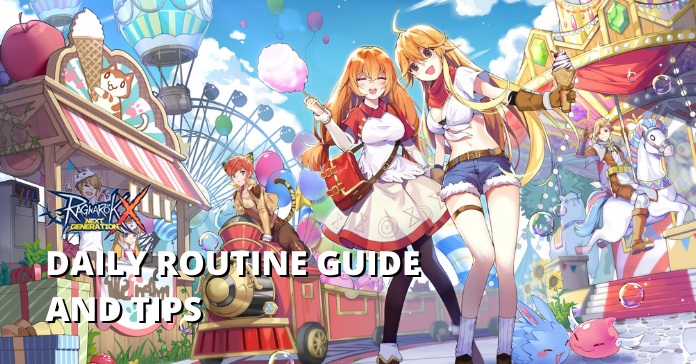 [Ragnarok X: Next Generation Wiki] Most MMORPG game's endgame content is the various PVP modes. These include the usual duels, arenas, and guild wars. But before we can even think about that stuff, players need to get stronger, get better gear, farm for upgrade materials, craft better items, and so on. And what better way to gain all these necessary stuff than to go through what we call PVE content or Player Versus Environment.
[READ] Ragnarok X: Next Generation –The Beginner's Complete Guide To RoX
Ragnarok X next Generation has a bunch of PVE related content that will essentially become your daily routine in-game. These include the Mission Boards, Daily instances, OX Quiz, COC Missions, Tavern, Guild Orders, Life Skills, Boss Hunts, and of course the Grinding.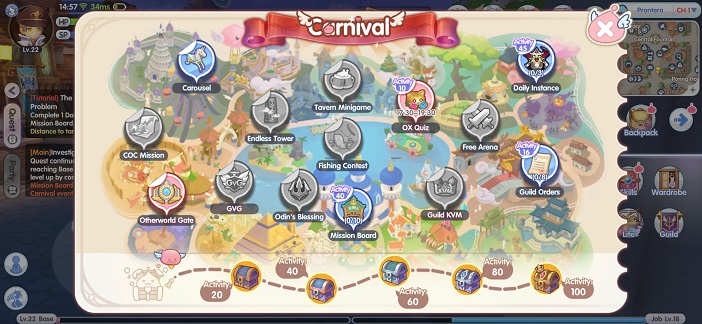 What are the PVE related contents in ROX?
Mission Boards – these are usually errands and subjugation quests posted by the populace of Rune Midgard. Take these missions and accomplish them in exchange for experience, zeny, and Odin's Blessing. You can acquire 10 quests each day in the mission boards located in every major city. Sometimes, an urgent quest happens after you completed the ten tasks. To complete this, you just need to accept the mission and tap the specific quest in your quest list. It will lead you to your destination to do the quest. After that, you need to submit the accomplished quest to receive the rewards.
Daily Instance – You get 3 chances daily to do this content where you need to clear a dungeon with a party and defeat the final boss to receive various goodies such as weapons, armors, monster cards, and crafting materials. An instance run is a good feature to practice for PVP (unlockable at level 40). You can gain useful battle knowledge like planning ahead, and proper character positioning.
COC Missions – COC Missions are the equivalent of Fetching/Errand Quests. By accepting this mission, you will be asked to buy certain products from locals and other cities in exchange for experience and gacha coins. There are three different coins available for trade: Headgear Coin, Equipment Coin, and Monster Card Coin. You can choose based on your needs. You can use these coins at Prontera City's Vending Machine.
Guild Orders – if you're part of a guild, you need to contribute something so that your guild can flourish. Guild orders are tasks generated by the Kingdom. Doing these tasks will increase your contribution to the guild and help the guild to level up faster and unlock features that will make your guild stronger. Guild Orders are similar to COC Missions where you just need to fetch certain items and submit them.
OX Quiz – this feature is available 3 times a day but you can only participate once. This event will see you trying to correctly answer 12 common knowledge questions about the game and its lore. For every correct answer, you will be rewarded with experience.
Tavern – Here, you can compete in a one-on-one arm wrestling event with your peers. Here you can gain stamina potions you can use on your life skills.
Life Skills – You can take a break from slaying monsters and have a change of phase by doing earnest labor like Mining, Gardening, Fishing, Crafting, Smelting, and Cooking. These six are known as life skills, every time you use them, you need to spend some stamina points that you can get from doing mission boards, or just hanging out for a while in any major city. Doing these life skills will help to get the necessary materials for crafting and such.
Boss Hunts – the game has 2 types of bosses which are the MVP Bosses, and Mini-Bosses. Participating in these events will give you a chance to get Gold Equipment, MVP Cards, Mini Cards, Headgear, and Equipment. Make sure that every time a boss spawns, gather every adventurer available in the world to defeat it quicker.
Grinding – after doing every task available you can now do grinding, It refers to continuous killing of monster to gain experience, zeny, and a chance to get monster cards.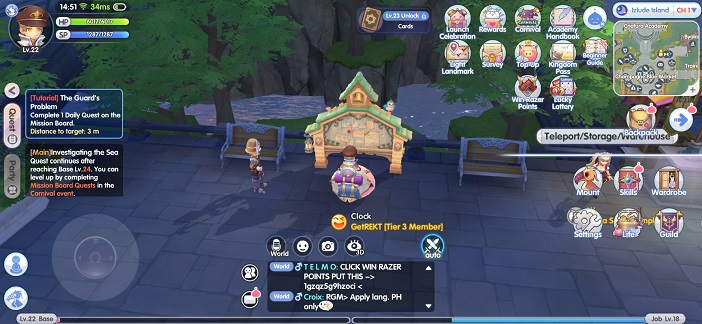 Tips on how to optimize your daily routine and finish them a lot quicker
Do Mission Board first so that every time you set foot on a major city, you will regenerate your Odin's Blessing. Each day you can get 600 points of Odin's Blessing by staying in them.
When you are done with Mission Boards, your next task would be Daily Dungeons. Usually, urgent quests are related to dungeons so you will kill two birds with one stone by doing this.
Do COC Mission and after that Guild Orders, these two are just errand quests so you can finish them quicker.
Next to do are the mini-games, Ox Quiz, and Tavern. OX quiz has a set schedule so take note of it so you can participate once it's available. You need to do it right away because you might forget about it later. (if OX Quiz is not yet open, do step 5 first)
Spend your Odin's Blessing by Grinding since each time you consume Odin's Blessing it will be converted to Stamina that you, in turn, will use for your life skills.
After depleting your Odin's Blessing, you can now do your preferred Life Skills. It is recommended to focus on mining and fishing first during the first week of the game to boost your damage output for easier grinding.
Next is the Boss Hunt. Do this if you have time or you're not that busy.
Lastly, Grinding. Once you're done with everything, you can now do grinding. It is important to set the proper setting, have enough bag space, and restock potion/miscellaneous items before leaving your character to do grinding.
[More Guides]