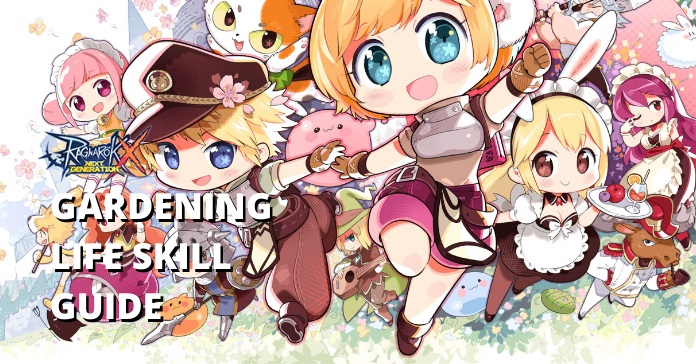 [Ragnarok X: Next Generation Wiki] Becoming a self-sufficient player in RoX is an important endeavor because this can provide your own needs in the game, especially if you plan to play the game for a long time. Trying to balance your usual gameplay and your life skills as much as possible is essential to the game. Gardening isn't considered as important as Mining and Fishing during the early parts of the game, but once you reach mid-tier, the benefits of this Life Skill become more evident. Let's dive in and discuss how Gardening works.
[READ] Ragnarok X: Next Generation –The Beginner's Complete Guide To RoX
Important information to remember in Gardening
Compared to Mining and Fishing where you can do them anytime, in Gardening, you need to take into account the day and night cycle as well as the current weather in-game.
Period of the Day – it refers to the location of the sun, it is divided into four segments: Day, Night, Morning, and Evening. Every segment usually lasts for 40 minutes to an hour. You can check the current period by clicking your mini-map located on the upper left side of your screen.
Day and night – during this period, you can only gather cooking materials.
Morning and evening – during this period, you can only gather smelting materials used for enchanting equipment.
---
Weather – it refers to the current weather in a specific location. It is divided into two types: Normal Weather and Special Weather. Special weather usually increases the refresh rate of plants, especially during a Drizzle or a Thunderstorm where plants respawn limitlessly giving the chance for everyone to gather as much as they want at the same time.

How do you begin Gardening?
Once you're familiar with the period and weather cycle, you can now start doing gardening. Follow the steps below to learn more about gardening procedures.
To begin, go to the Life Skill menu and select gardening.
Check whether your target material is available.
Once you have determined that you can gather the material you want, click its location. Your character will automatically move to that spot.
Once you're there, click the gardening button to begin.
Then you're done keep doing it and get as much as you need. You now know how to do Gardening in ROX.
And that's about it! You now have the know-how to begin Gardening in ROX. Do keep in mind that ROX has an anti-bot feature (auto clickers and such) implemented when you're gardening where simple math questions will pop up from time to time. If you answered correctly, you can continue to do your gardening. If not, you will be penalized for 1 minute of downtime where you are restricted to do any gathering.
[More Guides]