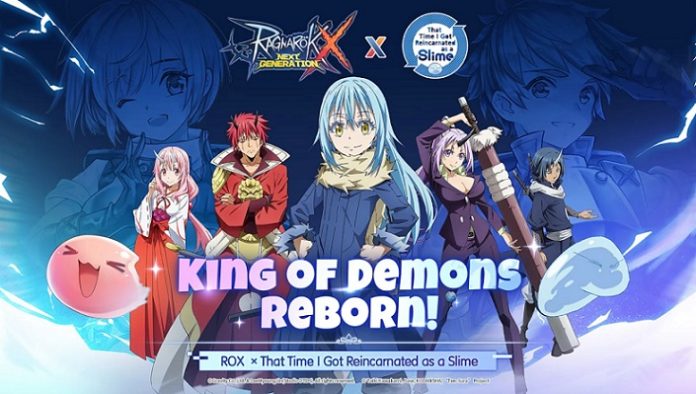 Ragnarok X: Next Generation just announced that a collaboration event will be happening with popular anime Tensei Shitara Slime Datta Ken, also known as Tensura or Slime Isekai! During the game event, your favorite character from the anime like Rimuru Tempest, Benimaru, Shion, Shuna, and the rest of his clan will visit Midgard! Can you find them all?
With Rimuru's arrival, brand new quests and bosses will also be available during the event for players to accept and challenge! That's a lot to look forward to!
If you're not aware of the anime, Tensura is a popular series that tells the story of Rimuru, a human who got reincarnated as a slime monster (very similar to a Poring!) in another world. From there on, he vowed to live life to the fullest with the help of his monster comrades while facing adversaries that threaten the new life he has established.
Pre-Registration link 👉 https://www.ragnarokx.com/slimesadventure
In ROX, you can go on adventures together once more with your Ragnarok family and explore the huge world of Midgard. Revisit your classic haunts from the original game, and experience the nostalgia with a brand new perspective as everything is now recreated in 3D! From the capital of Prontera to the small islands, Midgard is waiting for you to explore!
Did you know that ROX has recently launched the Pet System? That's right! You can now have a companion by your side that you can take anywhere from exploring Midgard to battling enemies! Learn how to tame monsters, summon them to assist you in battle, and raise them to become stronger!More information about the ROX x Tensura collaboration will be revealed very soon so stay tuned! Don't forget to download Ragnarok X: Next Generation via the Google Play Store and iOS App Store and play the game now! For more information, visit their official website.