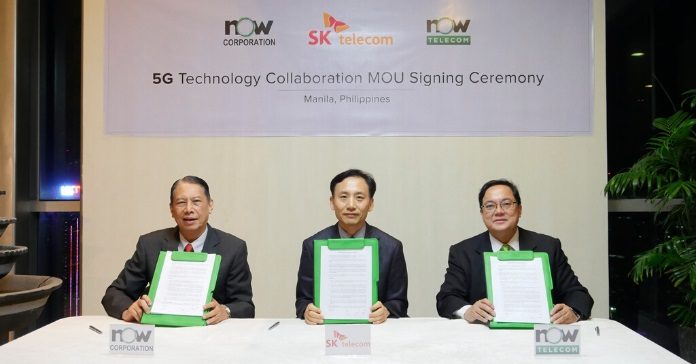 NOW Corporation, together with its telecom affiliate NOW Telecom Company, Inc. have recently signed a partnership with South Korea's SK Telecom which will see the latter support Now Telecom's ambition to roll out 5G services in the Philippines. Both parties signed a Memorandum of Understanding (MOU).
Aside from providing 5G connection, the agreement between the two telecom providers covers a number of projects including technical roadmap planning, network conceptualization, and design, 5G core network training, stand-alone 5G network commercial infrastructure, 5G B2B services, in-building solutions, and home broadband service.
"Since we launched the world's first 5G service, we have been in talks with overseas mobile carriers to launch 5G services in other countries in Europe and Southeast Asia."

Shim Sam Soo, SK Telecom Head of Infra-Business
South Korea became the first country in the world to provide 5G services last April 2019 with SK Telecom reaching over one million subscribers since its launch on April 3, 2019. And with Now Telecom as a new partner, SK can now start a step-by-step plan to expand its 5G services outside of South Korea. SK Telecom also wishes that this new partnership will bring more business opportunities to bring other services overseas including their "small but mighty equipment companies".
"This partnership with SK Telecom will help produce a more defined business strategy for NOW and its execution programs for the next five to 10 years as the country begins to embrace 5G and its various applications."

Now Telecom
Having 5G connection in the Philippines is one step closer for the third world country to become a modern one that can go head to head, in terms of connectivity, after all, Filipinos are one of most internet heavy users in the entire world. The question now is if the average joe can get access to or even be able to afford a 5G connection?